Research

Open Access

Open Peer Review
This article has Open Peer Review reports available.
Low cardiac output as physiological phenomenon in hibernating, free-ranging Scandinavian brown bears (Ursus arctos) – an observational study
Cardiovascular Ultrasound
2014
12:36
Received: 15 August 2014
Accepted: 9 September 2014
Published: 16 September 2014
Abstract
Background
Despite 5-7 months of physical inactivity during hibernation, brown bears (Ursus arctos) are able to cope with physiological conditions that would be detrimental to humans. During hibernation, the tissue metabolic demands fall to 25% of the active state. Our objective was to assess cardiac function associated with metabolic depression in the hibernating vs. active states in free-ranging Scandinavian brown bears.
Methods
We performed echocardiography on seven free-ranging brown bears in Dalarna, Sweden, anesthetized with medetomidine-zolazepam-tiletamine-ketamine during winter hibernation in February 2013 and with medetomidine-zolazepam-tiletamine during active state in June 2013. We measured cardiac output noninvasively using estimates of hemodynamics obtained by pulsed wave Doppler echocardiography and 2D imaging. Comparisons were made using paired T-tests.
Results
During hibernation, all hemodynamic indices were significantly decreased (hibernating vs. active state): mean heart rate was 26.0 (standard deviation (SD): 5.6) beats per min vs. 75.0 (SD: 17.1) per min (P = 0.002), mean stroke volume 32.3 (SD: 5.2) ml vs. 47.1 (SD: 7.9) ml (P = 0.008), mean cardiac output 0.86 (SD: 0.31) l/min vs. 3.54 (SD: 1.04) l/min (P = 0.003), and mean cardiac index 0.63 (SD: 0.21) l/min/kg vs. 2.45 (SD: 0.52) l/min/ m2 (P < 0.001). Spontaneous echo contrast was present in all cardiac chambers in all seven bears during hibernation, despite the absence of atrial arrhythmias and valvular disease.
Conclusion
Free-ranging brown bears demonstrate hemodynamics comparable to humans during active state, whereas during hibernation, we documented extremely low-flow hemodynamics. Understanding these physiological changes in bears may help to gain insight into the mechanisms of cardiogenic shock and heart failure in humans.
Keywords
Animal model cardiovascular diseaseAcute cardiac careThrombosisEchocardiography
Background
Brown bears (Ursus arctos) have unique physiological adaptations to deal with the annual hibernation period lasting 5-7 months, in which they do not eat, drink, defecate, or urinate and display minimal physical activity [1]. These adaptations protect the bears from the detrimental effects of inactivity and, hence, they avoid the loss of muscle and bone mass [2–5], decubitus ulcers, and the deterioration of cardiac function [6–9]. During this period the bears' oxygen demand is reduced to 25% of the active state [10] and cardiac adaptations, including profound bradycardia and low cardiac output are induced to optimize energy conservation during the long period of low metabolism. Whereas bed rest and sitting still for longer periods of time predispose humans to thromboembolism [11], this is apparently not the case in the brown bear. Clearly, the identification of mechanisms responsible for these adaptations could have substantial applications for various areas of human medicine including intensive care medicine and in prevention of thromboembolism.
In humans, spontaneous echo contrast (SEC) in the echocardiogram is the presence of swirling echo-dense shadows in the cardiac chambers and large vessels. SEC occurs in areas of low blood flow, and is caused by the aggregation of red blood cells and plasma proteins [12, 13]. The presence of SEC is strongly associated with cardiac pathophysiology in humans and predisposes to thromboembolic events [13–18].
Reduced cardiac output during hibernation has been described in bears previously [7, 8] but a more detailed description of the cardiac functional adaptations is warranted for a deeper understanding of the physiology of the brown bears. In addition, the previous studies were conducted in captive bears with the risk of introducing bias caused by human interaction and/or presence during hibernation [19]. Hence, the aim of this study was to provide a detailed documentation of the cardiac function and intracardiac blood flow pattern in the hibernating and in the active free-ranging brown bears.
Methods
Material
We assessed the hemodynamics of seven subadult hibernating brown bears in Dalarna, Sweden in February 2013. These bears had received GPS collars previously, which allowed us to locate them in their dens. The bears were immobilized using a mixture of medetomidine, zolazepam, tiletamine and ketamine [20]. The same bears, in the active state, were immobilized in June 2013, where they were darted from a helicopter with medetomidine, zolazepam and tiletamine at 2-4 times the winter dose [20]. The study was approved by the Swedish Ethical Committee on Animal Research (C212/9) and the procedure was in compliance with Swedish laws and regulations.
Echocardiography
We performed echocardiography in the field with the bear in a left lateral recumbency using a Phillips CX50 with an S51 probe. We used second harmonic imaging and the obtained images included 2D, MMode, and pulsed and continuous wave spectral Doppler echocardiography. We estimated stroke volume using the formula.
where SV is the stroke volume (ml), D is the left ventricular outflow tract (LVOT) diameter (cm), measured in the parasternal long axis view, and TVI is the time velocity integral (cm) of the pulsed wave spectral Doppler in the LVOT after careful alignment of the marker in the direction of the blood flow. To minimize the influence of measurement error of the LVOT diameter, we used each bear's mean value of LVOT diameter measured during hibernation and active state to calculate SV. Cardiac output (l/min) was calculated using the formula.
where HR (beats/s) is the mean heart rate obtained from 6 heart beats. We calculated the cardiac index (CI) (l/min/m
2
) using an estimation of body surface area (BSA) (m
2
) as previously described [
21
].
We measured ejection time and time to peak velocity from the pulsed wave spectral Doppler placed in LVOT as above. We obtained cardiac intervals with the pulsed wave spectral Doppler placed between mitral leaflets during diastole. Isovolumetric relaxation time (IVRT) + Isovolumetric contraction time (IVCT) was calculated as end of A wave to start of E wave minus ejection time and Tei index was calculated as (IVRT + IVCT)/ejection time.
Echocardiograms, post-processing, and assessment of SEC were performed by an experienced echocardiographer (PGJ).
Statistics
The values are presented as mean ± 1 standard deviation (SD). Because of the small number of bears, normal distribution of values was difficult to assume. However, the results of the paired T-tests were chosen to be shown with the limitation that normal distribution of data might not be fulfilled. The calculations were made using the statistical software package 'R' , version 3.0.1 (64 bit) (R Project for Statistical Computing, http://www.R-project.org).
Results and discussion
In total, we examined the same seven bears in the field in both February and June. Echocardiograms were only obtained in six of the bears (4 females and 2 males) in June 2013. During hibernation the bears did not differ significantly from the active state in body mass (50.3 kg vs. 54.3 kg; P = 0.50).
We found no valve disorders or arrhythmias, during the echocardiographic examinations.
Flow indices for each bear and mean values are found in Figure
1
. During hibernation, all flow indices were reduced compared with the active state (hibernating vs. active state): heart rate was reduced to 35% (26.0 (±5.6) beats per min vs. 75.0 (±17.1) beats per min (P = 0.002)); stroke volume to 69% (32.3 (±5.2) ml vs. 47.1 (±7.9) ml (P = 0.008)); cardiac output to 24% (0.86 (±0.31) l/min vs. 3.54 (±1.04) l/min (P = 0.003)) and cardiac index to 26% (0.63 (±0.21) l/min/m
2
vs. 2.45 (±0.52) l/min/m
2
(P < 0.001)).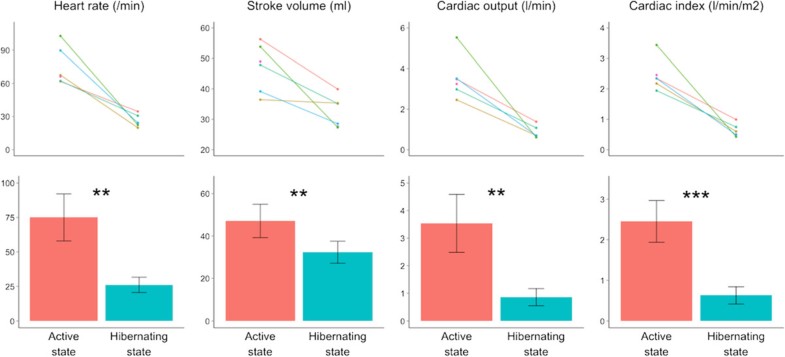 Pulsed wave Doppler-derived measurements of cardiac intervals are found in Table
1
. Both systolic and diastolic time intervals were increased during hibernation. However, although ejection time was increased by 30% and time to peak velocity was increased by 70%, the most prominent increase was in diastolic filling time, which increased by a factor 3.9. Likewise, the Tei index was increased by 66% during hibernation, indicating relatively longer periods of isovolumetric phases.
Table 1
Cardiac time intervals measured by pulsed wave doppler echocardiography
| | Active state | Hibernating state | P-value |
| --- | --- | --- | --- |
| Ejection time (ms) | 200 (±18.6) | 256 (±16.9) | 0.005 |
| Diastolic filling time (ms) | 571 (±103) | 2217 (±858) | 0.02 |
| IVRT + IVCT (ms) | 363 (±30) | 583 (±61) | 0.006 |
| Tei index | 0.77 (±0.10) | 1.28 (±0.29) | 0.07 |
SEC was present as swirling echo-dense structures in all four chambers of all seven bears examined in the hibernating state in February 2013. However, there were no signs of SEC in the bears when examined during their active state in June 2013 (Figure
2
and Additional files
1
and
2
).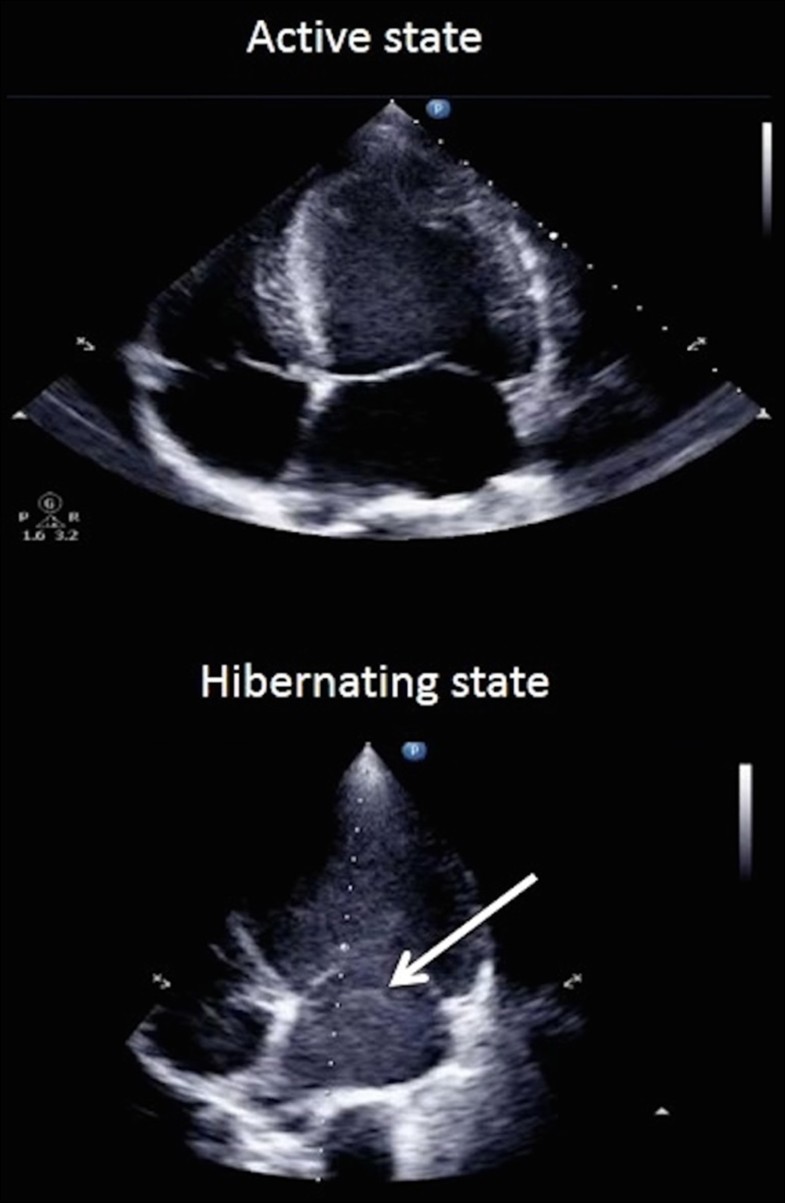 Additional file 1: 2D echocardiographic images from the hibernating state of free-ranging brown bears. The presence of spontaneous echo contrast as swirling, echo-dense shadows is easily recognized in the left atrium and ventricle. The blood is almost entirely halted during parts of the prolonged diastole. (MP4 4 MB)
Additional file 2: 2D echocardiographic images from the active state of free-ranging brown bears. There is no evidence of spontaneous echo contrast in neither left atrium nor ventricle. (MP4 1 MB)
In this study, we describe the pattern of extreme low flow hemodynamics in hibernating brown bears. Although all measured flow indices were significantly reduced during hibernation, the difference was most pronounced for CO, with more than a four-fold decrease during hibernation. In addition, even CI, which takes in to account both differences in HR, SV and animal size and provides the most accurate assessment of changes in hemodynamics, was increased almost four-fold during the active state. The low flow hemodynamics were reflected by the presence of SEC in all cardiac chambers.
Conclusion
Low blood flow hemodynamics and SEC are normal physiological phenomena in free-ranging Scandinavian brown bears in response to low energy demands during hibernation. Identification of the mechanisms responsible for the lowered metabolic rate and decreased hemodynamic indices could have implications for human medicine, including treatment of cardiogenic shock, heart failure and prevention of thromboembolism.
Abbreviations
BSA:

Body surface area
CI:

Cardiac index
CO:

Cardiac output
HR:

Heart rate
IVCT:

Isovolumetric contraction time
IVRT:

Isovolumetric relaxation time
LVOT:

Left ventricular outflow tract
SD:

Standard deviation
SEC:

Spontaneous echo contrast
SV:

Stroke volume
TVI:

Time velocity integral.
Declarations
Acknowledgements and funding
We would like to thank Lisbeth Høier Olsen, Professor, DVM, DVSc, Department of Veterinary Disease Biology University of Copenhagen and Mette Flethøj Madsen, DVM, PhD student, University of Copenhagen for invaluable echocardiographic support prior to the field study and Sven Brunberg for excellent organisation of the field work.
The Scandinavian Brown Bear Research Project was funded by the Swedish Environmental Protection Agency, the Norwegian Directorate for Nature Management, the Swedish Association for Hunting and Wildlife Management, the Research Council of Norway, the Austrian Science Fund, a Nordforsk researcher network grant (project no. 44042), and the Lundbeck Foundation (R126-2012-12408). This is paper number 174 from the Scandinavian Brown Bear Research Project.
Authors' Affiliations
(1)
Department of Cardiology, University of Copenhagen, Gentofte Hospital, Copenhagen, Denmark
(2)
Department of Forestry and Wildlife Management, Faculty of Applied Ecology and Agricultural Sciences, Hedmark College, Elverum, Norway
(3)
Department of Wildlife, Fish and Environmental Studies, Faculty of Forest Sciences, Swedish University of Agricultural Sciences, Umeå, Sweden
(4)
Department of Ecology and Natural Resource Management, Norwegian University of Life Sciences, Norway
(5)
Norwegian Institute for Nature Research, Trondheim, Norway
(6)
Department of Cardiology, Örebro University Hospital, Örebro, Sweden
Copyright
© Jørgensen et al.; licensee BioMed Central Ltd. 2014
This article is published under license to BioMed Central Ltd. This is an Open Access article distributed under the terms of the Creative Commons Attribution License (http://creativecommons.org/licenses/by/4.0), which permits unrestricted use, distribution, and reproduction in any medium, provided the original work is properly credited. The Creative Commons Public Domain Dedication waiver (http://creativecommons.org/publicdomain/zero/1.0/) applies to the data made available in this article, unless otherwise stated.