Review
Open Access
Open Peer Review
This article has Open Peer Review reports available.
Stress echocardiography in heart failure
Cardiovascular Ultrasound
2004
2:11
Received: 12 July 2004
Accepted: 30 July 2004
Published: 30 July 2004
Abstract
Echocardiography has the ability to noninvasively explore hemodynamic variables during pharmacologic or exercise stress test in patients with heart failure. In this review, we detail some important potential applications of stress echocardiography in patients with heart failure. In patients with coronary artery disease and chronic LV dysfunction, dobutamine stress echocardiography is able to distinguish between viable and fibrotic tissue to make adequate clinical decisions. Exercise testing, in combination with echocardiographic monitoring, is a method of obtaining accurate information in the assessment of functional capacity and prognosis. Functional mitral regurgitation is a common finding in patients with dilated and ischaemic cardiomyopathy and stress echocardiography in the form of exercise or pharmacologic protocols can be useful to evaluate the behaviour of mitral regurgitation. It is clinical useful to search the presence of contractile reserve in non ischemic dilated cardiomyopathy such as to screen or monitor the presence of latent myocardial dysfunction in patients who had exposure to cardiotoxic agents. Moreover, in patients with suspected diastolic heart failure and normal systolic function, exercise echocardiography could be able to demonstrate the existence of such dysfunction and determine that it is sufficient to limit exercise tolerance. Finally, in the aortic stenosis dobutamine echocardiography can distinguish severe from non-severe stenosis in patients with low transvalvular gradients and depressed left ventricular function.
Keywords
stress echocardiographyheart failurediastolic dysfunctionmitral regurgitation
Background
The identification of viable hibernating myocardium in patients with coronary artery disease and chronic left ventricular (LV) dysfunction is, up to today, the most common use of stress echocardiography in patients with heart failure. However, to search viable myocardium or the presence of contractile reserve is only one of plugs of the physiopathologic puzzle in a failing heart (Figure
1
and
2
). If we consider the ability of echocardiography to provide valuable haemodynamic information accurately and non-invasively, it is ideally suited for application during stress testing to objectively assess other physiopathologic components of heart failure. These include the study of exercise physiology, the presence and the behaviour of concomitant mitral regurgitation (MR), the prediction of response to resynchronization therapy etc.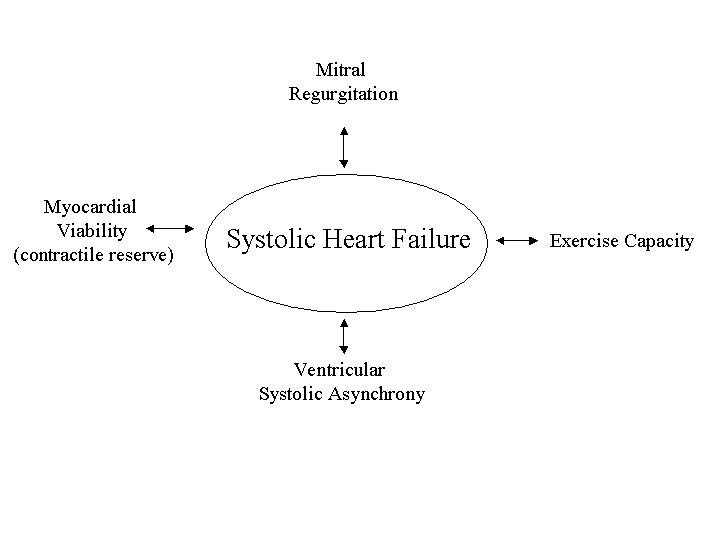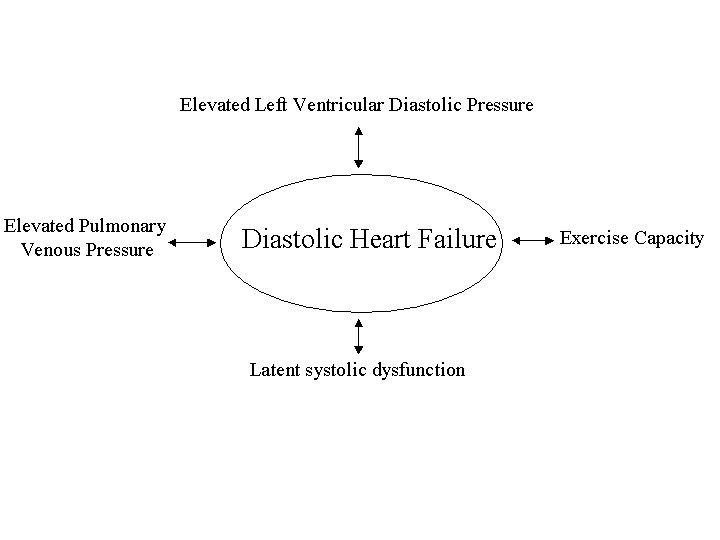 Therefore, the present review will detail some important potential applications of stress echocardiography in patients with heart failure in the evaluation of the different clinical and physiopathologic aspects of heart failure syndrome.
Diastolic heart failure
The prevalence of diastolic heart failure in the community is now to be at least as high as that reported in previous studies of hospitalised patients; almost half of all patients with heart failure have diastolic heart failure [41]. The term asymptomatic diastolic dysfunction is used to refer to an asymptomatic patient with a normal LVEF and abnormal echo-Doppler pattern of LV filling; this is often seen, for example, in patients with hypertensive heart disease. If such patients exhibit symptoms of effort intolerance and dyspnoea, especially if there are evidence of venous congestion and edema, the term diastolic heart failure can be used [42].
Resting echocardiography is most useful in the assessment of LV size, LVEF and the use of Doppler-derived indices of diastolic function has impact on the identification of diastolic dysfunction. However, to determine whether an abnormality of diastolic function is the cause of the patient's symptoms, we need to demonstrate the existence of such dysfunction and determine that it is sufficient to limit exercise tolerance. Therefore, the stress echocardiography, in particular exercise echocardiography could be useful in dyspnoeic patients with apparently normal LV function to unmask the presence of diastolic dysfunction (signs of elevated LV filling pressure) during exercise as cause of symptoms.
Patients with diastolic heart failure, as well as those with diastolic dysfunction and little or no congestion, exhibit exercise intolerance for several reasons. First, an elevated LV diastolic and pulmonary venous pressure during exercise causes reduction in lung compliance, which increases work of breathing and evokes the symptom of dyspnoea [42]. Second, a substantial number of patients who have LV hypertrophy, high relative wall thickness and small end diastolic volume exhibit a low stroke volume and a depressed cardiac output [43]. These hearts exhibit a limited ability to utilize the Frank-Starling mechanism during exercise. Such limited preload reserve, specially if coupled with the chronotropic incompetence limits the cardiac output during exercise [44]. Third, elevated LV diastolic and pulmonary venous pressures in patients with normal LVEF are directly related to abnormalities in the diastolic proprieties of the ventricle. This is not to say contractile function is entirely normal, but subtle and latent abnormalities of contractile function could be present in many patients, in whom, however, diastolic dysfunction is the dominant feature [42].
All these aspects can be assessed during exercise echocardiography (Table
3
). In particular the assessment of diastolic function during exercise has been shown to be feasible [
45
]. Combining transmitral flow velocity with annular velocity obtained at level of the mitral annulus with tissue Doppler (E/E') has been proposed as a tool for assessing LV filling pressures that combines the influence of transmitral driving pressure and myocardial relaxation [
46
]. Patients with rest E/E' >15 can be classified as having elevated filling pressure. A rest E/E' <8 suggests normal filling pressure and a range of 8 to 15 represents a gray zone. E and E' velocities increased significantly after exercise. In normal subjects because of proportional increases of both velocities, the E/E' ratio do not change significantly with exercise; this observation can be taken as a normal diastolic response during exercise [
45
]. Indeed, if E/E' ratio increases up to 15 we can suppose a pathological increase of LV filling pressure during exercise. This evaluation must be associated to the assessment of cardiac output and sPAP during exercise with appearance of symptoms. Finally, with the evaluation of systolic LV function during exercise it is possible to discover the portion of patients with concomitant latent myocardial dysfunction but predominant diastolic abnormality (Figure
8
).
Table 3
Useful echocardiographic parameters to evaluate diastolic function during exercise test in patients with suspected diastolic heart failure.
Transmitral Doppler indices
E/E' ratio
Cardiac output
Preload reserve
Contractile reserve
Pulmonary systolic artery pressure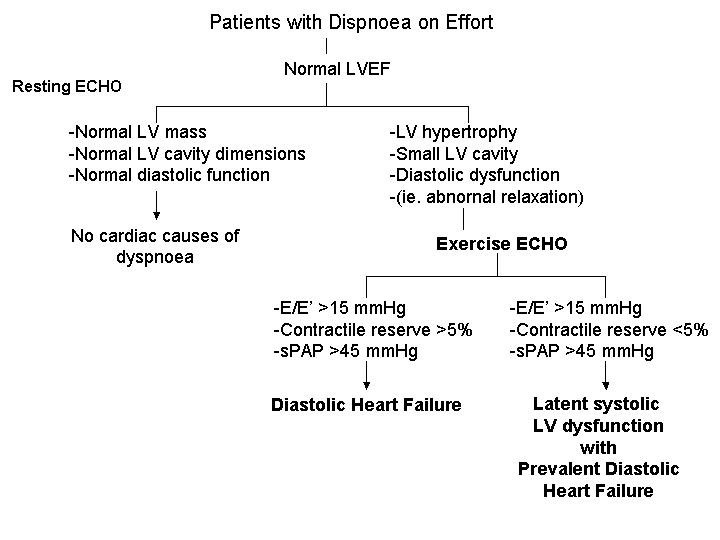 Aortic stenosis with left ventricular dysfunction
Stress echocardiography with dobutamine infusion is particularly useful in clinical decision making in patients with aortic stenosis with LV dysfunction and low transvalvular gradients. In this group of patients, an important clinical question rises: is the low gradient a consequence of low cardiac output due to a severe aortic stenosis which has led to LV dysfunction or is the low gradient a consequence of LV dysfunction is unrelated to aortic stenosis and the aortic stenosis is an incidental finding?
It is well known that the transvalvular gradients are flow-depentent parameters so that they are influenced by LV function. The aortic valve area can be accurately determined by Doppler echocardiography with continuity equation and that correlate well with Gorlin formula [47]. However, it has been shown that valve areas calculated by the Gorlin formula is flow-dependent and usually increase with flow, probably due to the flow dependence of the empirical constant C of the Gorlin formula, which represents the ratio of effective to anatomical orifice area. Burwash et al., with dobutamine stress-echocardiography, demonstrate a flow-dependent increase in actual orifice aortic valvular area calculated with continuity equation [48].
Therefore, the assessment of valve area does not solve the diagnostic dilemma in these patients, because we cannot distinguish between severe fixed from flow-dependent (relative) aortic stenosis. Thus, it is important to perform pharmacological manoeuvres to increase cardiac output so that valve area can be calculated at higher flow rate. Dobutamine stress echocardiography until 20 γ/kg/min with concomitant evaluation of cardiac output, aortic valve area and gradients, is a useful and reliable test to distinguish between severe fixed from relative aortic stenosis in presence of low gradient and LV dysfunction. On the basis on test results, it is possible to distinguish 3 groups of patients [
49
] (Figure
9
): 1. Patients with an improvement of contractile function but no significant increase in valve area and an increase of transvalvular gradients. These patients have severe fixed aortic stenosis and are good candidate for surgery with an acceptable peri-operative surgical risk. 2. Patients with contractile reserve with an increase of aortic valve area without substantial increase in transvalvular gradients. These patients have a non critical aortic stenosis and the LV dysfunction is not related to the aortic stenosis and should be treated conservatively. 3. Finally, patients without contractile reserve and no modification of valve area and transvalvular gradients. These patients represent an ambiguous group, because can represent patients with end-stage severe aortic stenosis with severe LV dysfunction or patients with severe LV dysfunction without contractile reserve and incidental aortic stenosis. However, this group has very poor prognosis.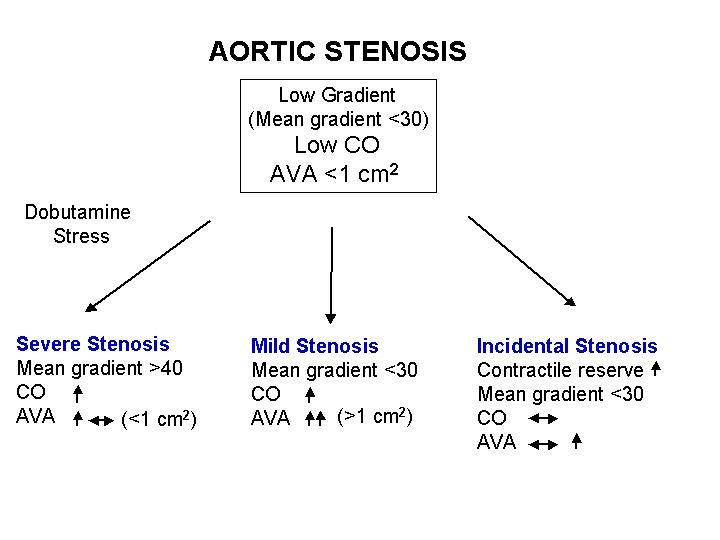 When interpreting the results of a dobutamine study in these patients to rule out or confirm definitively the presence of a severe fixed aortic stenosis, it is advisable to use an absolute cut-off value of the aortic valve area at peak of dobutamine >1 cm2 rather than an increase of ≥ 0.3 cm2 from baseline alone [49, 50].
Conclusions
Beyond the identification of viable hibernating myocardium, stress echocardiography is particular useful in patients with systolic and diastolic heart failure to assess the different physiopathologic component of heart failure syndrome and can aid to an appropriate clinical decision making.
Author's contribution
Concerning the authorship, the listed authors have contributed as follows to the manuscript:
EA and MP: 1) conception, design, analysis and interpretation of data, 2) drafting of the manuscript and 3) final approval of the manuscript
MO and AM: 1) critical revision of the manuscript for important intellectual content, and 3) final approval of the manuscript.
List of abbreviations
LV :

left ventricular
MR :

mitral regurgitation
LVEF :

left ventricular ejection fraction
DCM :

dilated cardiomyopathy
TAPSE :

Tricuspid annular plane systolic excursion
sPAP :

Systolic pulmonary artery pressure
Authors' Affiliations
(1)
Division of Non-Invasive Cardiology, Cardiothoracic Department, San Raffaele Hospital, IRCCS, Milano, Italy
Copyright
© Agricola et al; licensee BioMed Central Ltd. 2004
This article is published under license to BioMed Central Ltd. This is an open-access article distributed under the terms of the Creative Commons Attribution License (http://creativecommons.org/licenses/by/2.0), which permits unrestricted use, distribution, and reproduction in any medium, provided the original work is properly cited.