Combination of contrast with stress echocardiography: A practical guide to methods and interpretation
Cardiovascular Ultrasound
2004
2:15
Received: 16 July 2004
Accepted: 26 August 2004
Published: 26 August 2004
Abstract
Contrast echocardiography has an established role for enhancement of the right heart Doppler signals, the detection of intra-cardiac shunts, and most recently for left ventricular cavity opacification (LVO). The use of intravenously administered micro-bubbles to traverse the myocardial microcirculation in order to outline myocardial viability and perfusion has been the source of research studies for a number of years. Despite the enthusiasm of investigators, myocardial contrast echocardiography (MCE) has not attained routine clinical use and LV opacification during stress has been less widely adopted than the data would support. The purpose of this review is to facilitate an understanding of the involved imaging technologies that have made this technique more feasible for clinical practice, and to guide its introduction into the practice of the non-expert user.
Keywords
Myocardial PerfusionMyocardial Blood FlowPerfusion DefectMechanical IndexHarmonic Imaging
I. Imaging principles
Micro-bubbles
Two aspects of micro-bubbles are important – their gas content and the nature of their shell. Recently-approved micro-bubbles almost universally involve encapsulation of a high molecular weight gas, which improves the persistence of the bubble, optimising the number available in the left heart chambers. Air has a greater propensity to dissolve into solution and although currently unattractive because of loss of gas before arrival on the right side of the heart, better encapsulation may allow its resurgence – the benefit would be more rapid disappearance when the bubble bursts. The nature of the shell or surface modifying agent, which improves stability and prevents dissolution, may become important for new targeted imaging approaches.
Interaction of micro-bubbles and ultrasound
Even when optimal microbubble delivery to the myocardium is achieved with invasive coronary [1] or aortic root [2] injections, detection of reliable myocardial opacification using standard 2D imaging is difficult. Whilst this partly reflects difficulty distinguishing bright, grey scale echo signals from the myocardial tissue from those of micro-bubbles within the myocardial micro-circulation, the problem is multi-factorial and has been overcome by the development of contrast specific imaging modalities, which exploit the unique interaction between the ultrasound field and micro bubbles[3] to maximise the received contrast backscatter and minimise myocardial tissue backscatter.
Micro-bubbles oscillate (expand and contract) in the ultrasound field. The pattern and nature of their oscillation, and thus the nature of the backscatter signal, differs, depending on the acoustic power of the transmitted ultrasound field, which is expressed on modern ultrasound machines as the mechanical index (MI). In general echocardiography, the amplitude of returning backscatter depends on the nature of the insonated structure, and is represented by brightness on the formed image. Most backscatter returns at the same frequency as the transmitted ultrasound (fundamental frequency).
With
very low
mechanical index imaging (MI < 0.1), micro bubbles demonstrate linear oscillation, where the contraction and expansion of the micro bubble are equal. All returning micro bubble backscatter remains within the range of the frequency transmitted by the transducer (the fundamental frequency) – as for surrounding structures (Figure
1a
).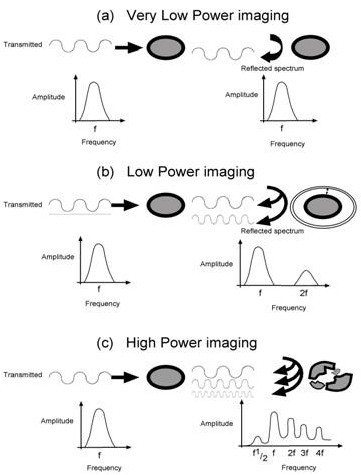 Low mechanical index imaging (0.1 – 0.3), generates nonlinear oscillation of the micro bubble whereby expansion is greater than contraction. In addition to the usual backscatter of a particular amplitude within the range of the fundamental frequency, the bubbles also produce backscatter of (lesser) amplitude at harmonic frequencies [4, 5]. For example scatter from a bubble interrogated by a 4 MHz pulse will be composed of 4 MHz and 8 MHz sound (Figure 1b). Tissues and surrounding structures do not produce harmonic backscatter when imaged under low power.
When exposed to high mechanical index imaging (MI > 0.6, ie the MI used for standard imaging) the bubbles oscillate wildly and burst. Upon destruction, micro-bubbles produce a brief, high amplitude signal, with good resolution, which is rich in harmonic signals, containing backscatter at the second third and fourth harmonics etc (Figure 1c). The bubble dissipates gradually following destruction, depending upon the gas composition of the bubble, with air-based micro-bubbles dissipating much more rapidly. Importantly at high MI, tissues also produce harmonics.
With standard fundamental imaging (high MI), myocardial micro-bubbles are destroyed continuously, causing apical swirling on LVO images and never replenishing the myocardium within the beam, and thus not returning significant myocardial backscatter. This exacerbates the underlying difficulty of differentiating on grey scale, between tissue backscatter and micro-bubble backscatter.
Changing to standard harmonic imaging (processing only signals returned at the second harmonic of the fundamental frequency) significantly improves LVO, but offers little benefit for myocardial perfusion, with ongoing bubble destruction and sub-optimal differentiation between contrast and tissue, because both produce harmonics at high power. Contrast specific imaging modalities, with the aim of enhancing the contrast to tissue backscatter signal ratio (CTR) are required for optimal performance of a myocardial contrast study.
Contrast specific imaging technology
High Power Techniques – Intermittent Imaging
Triggered harmonic imaging
Porter demonstrated that intermittent high power imaging demonstrated significantly better myocardial opacification than continuous imaging, with the best opacification obtained using intermittent harmonic imaging [6]. During intermittent high power imaging, high energy ultrasound is transmitted at specified intermittent intervals, triggered to the ECG (eg once every 4 cardiac cycles; 1:4 triggering). The time between destructive pulses allows the micro-bubbles to replenish the myocardium. With each destructive pulse, high amplitude backscatter rich in harmonics is returned to the transducer, enabling static images of myocardial perfusion.
Moreover, by incrementally increasing the triggering intervals (continuous → 1:1 → 1:2 → 1:4 → 1:8 etc), the rate of replenishment of the ultrasound beam over time can be assessed both qualitatively and quantitatively.
The qualitative assessment of perfusion using intermittent harmonic imaging can be improved by digital subtraction of the myocardial signal, and optimized by colour coding techniques to allow better extraction of bubble signals [
7
] (Figure
2
). The first human study validating myocardial perfusion assessment by MCE with SPECT used digital subtraction [
8
]. However, this approach requires careful superimposition of each frame, and although the analysis is becoming more automated, the processing is still performed off-line.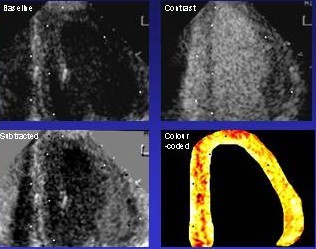 Harmonic Power Doppler
Power Doppler technology is designed to detect motion of blood or tissue, and is used in myocardial contrast echo to overcome the need for off line digital subtraction [9]. As with traditional Doppler, two or more pulses are sent successively along each scan line of the image and the pairs of echo trains are compared for the presence or absence of a frequency shift (indicating movement). However, unlike traditional Doppler, power Doppler ignores the direction and velocity of the moving structure; if a frequency shift is detected, indicating motion of the structure, then colour is displayed as an overlay whose saturation is related to the amplitude of the echo which has moved. If no frequency shift (movement) is detected, no colour is displayed.
This method is ideally suited to high mechanical index destructive imaging, as the first pulse destroys the myocardial micro-bubbles, generating a brief, high amplitude echo rich in harmonics. The second pulse finds that the bubbles have 'moved', and thus colour is overlaid on the echo image over the areas of myocardium that contained micro-bubbles. In an area with no micro bubbles, there is no 'movement' recognised and there is no colour overlay applied to that region. Note that the technique is not actually detecting movement of the bubbles in the circulation, but rather their destruction. This technique has been correlated in human subjects with SPECT[
10
] and has been used extensively in clinical trials (Figure
3
and
additional file 1
).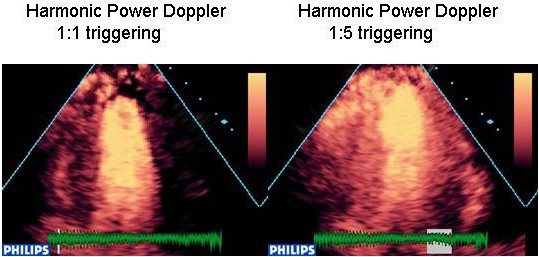 The most important limitation of this technique is motion artefact from tissue, because tissue motion will be expressed like bubble destruction, potentially showing perfusion when none is present (a false negative). If Doppler frequency is increased, pulse separation is reduced, so tissue movement between pulses can be minimized. However, if the pulses are too close, not all the gas within the bubble will have dissipated before arrival of the next pulse, so the difference between pulses is reduced, possibly leading to false positive perfusion defects. Air-filled micro-bubbles are optimal for this technique because of rapid dissipation of the gas, allowing closely spaced pulses.
Pulse Inversion Doppler
Another grey scale high MI technique is pulse-inversion imaging whereby two beam mode pulses are sent in rapid succession into the myocardium. The second pulse sent is a mirror image of the first (i.e. 180° phase shift). The scanner processes the consecutive returning pulses by adding them together. Tissue generates a linear echo, thus the addition of one pulse to the other should cancel out to zero and no signal is generated. Micro-bubbles produce non-linear echo signals and the summation of returning pulses will not equal zero and a signal will be registered (Figure
4
).

Using this technique, processing can theoretically be limited only to signals generated by bubbles. As well as being a grey-scale technique, tissue motion artefacts are a major limitation, as movement of tissue also creates non-linear signals. Nevertheless the theory behind this technology has led to the development of successful real time imaging.
Ultraharmonic imaging
With the development of increased bandwidth transducers, another intermittent high MI technique has evolved to improve the contrast to tissue ratio of backscatter. While intermittent harmonic imaging demonstrates myocardial perfusion, it is limited by the presence of tissue signals at the second harmonic. However, bubble destruction causes backscatter at 3rd 4th and sub-harmonics. At these higher harmonics the tissue signal is negligible, thus processing only backscatter from these further harmonics enables selective enhancement of the contrast signal. Interestingly, current ultra-harmonic imaging involves processing signals from between the second and third harmonic.
The strength of the high MI approaches are their sensitivity for the presence of contrast, because bubble destruction results in the highest amplitude backscatter. The disadvantages are that they lack simultaneous assessment of function, require reliable ECG triggering and image acquisition, and can be both technically challenging and time consuming (of particular importance for stress imaging). While the difficulty maintaining image position with long triggering intervals has been aided by the use of low MI localization images, respiratory movement is almost inevitable.
Low Power Techniques – Real Time Imaging
In recent years, technologies have been developed which so successfully exploit the non-linear responses of micro-bubbles, that even low amplitude micro-bubble backscatter can be isolated from tissue signals for processing. This allows continuous low power imaging to be performed, with limited bubble destruction, enabling simultaneous assessment of wall motion and perfusion in real time (although frame-rate is minimized in order to reduce bubble destruction) (See table 1). Hence low MI imaging is commonly known as real time imaging,
The use of low MI has two major benefits; (1) The bubbles undergo stable non-linear oscillation emitting continuous fundamental and harmonic signals and (2) the tissues themselves do not generate harmonic signals at low MI. Like incremental triggered imaging, low MI imaging enables assessment of micro-bubble replenishment of the myocardium over time after bubble destruction. With low MI imaging, myocardial bubble destruction is achieved by transmission of a series of a high MI pulses ("flashes"), after which replenishment can be observed in real time (see figure
11
). There are 2 major real time techniques.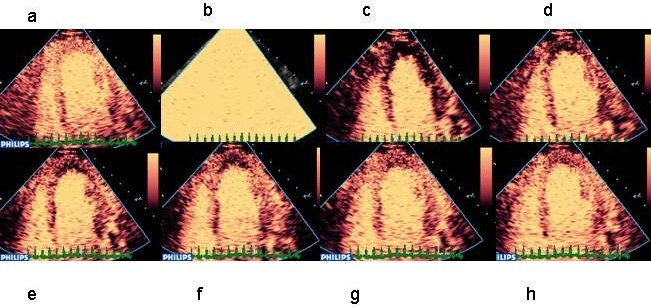 Power pulse inversion imaging
This technique combines the non-linear detection performance of pulse inversion with the motion discrimination capability of power Doppler. Multiple transmit pulses of alternating polarity are used, and Doppler signal processing techniques are applied to distinguish between bubble backscatter and backscatter from tissue. In a typical configuration, echos from a train of pulses are combined in such a way that signals from moving tissue are eliminated (see also figure 4).
Power modulation imaging
This method utilises the same signal subtraction principles, as PPI, with the transmitted pulses identical in phase but of different in amplitude or 'power' – hence power modulation, one impulse of full power, the other half that power. Echos reflected from stationery tissue are linear, thus if we subtract two times the lower power from full power, the signals should cancel out whereas a non-linear oscillation of micro-bubbles will generate a signal. In power modulation, fundamental imaging is most suited, because the tissue subtraction technique is so effective that the best signal to noise ratio from contrast to tissue is at the fundamental frequency. Both techniques have been validated in animals and utilised for qualitative assessment of perfusion in humans[11, 12].
Bubble administration
The decision regarding the use of a bolus or infusion for intravenous administration of micro-bubbles is dependant on a variety of factors, including the type of micro-bubble used, equipment and staff available and clinical indication for the test (LVO, qualitative perfusion or quantitative perfusion). For MCE, bubbles should be infused with the aim of LV opacification and adequate myocardial perfusion with minimal/no attenuation of the basal segments. The amount of contrast required for this varies from bubble to bubble, machine to machine and technique used (intermittent or continuous), as well as showing patient to patient variability. Ideally all studies, particularly those assessing perfusion would involve a continuous infusion of micro-bubbles, with a mechanically controlled infusion preferable to a manually controlled one (slow continuous injection). This enables establishment of a true steady state for optimal imaging and in particular quantification.
II. Left ventricular opacification
Accurate evaluation of regional and global left ventricular function by echocardiography is dependent on adequate endocardial border resolution. Using fundamental imaging, approximately 20% of resting echos demonstrate inadequate endocardial definition [13], defined as ≥ 2 segments not seen at baseline. While native tissue harmonic imaging enables better endocardial definition than standard fundamental imaging and reduces the number of patients with inadequate studies to 5–10%, contrast induced LVO still confers benefit over harmonic imaging [14]. The most challenging patients have obesity, chronic lung disease or chest wall deformities. Ventilated patients in intensive care also provide significant difficulties because of patient positioning and compliance.
Techniques that enhance discrimination between myocardial tissue and the blood pool may therefore improve the clinical utility and diagnostic accuracy of echo. Left ventricular opacification (LVO) by contrast echo enhances this discrimination to better define the endocardial surface.
Contemporary LVO involves administration of perflurocarbon micro-bubbles (which show superior duration of opacification and enhancement of endocardial definition compared with air filled bubbles [
15
]), and intermediate MI harmonic imaging (0.4–0.5) which allows continuous high frame rate imaging, results in reduced bubble destruction, leads to production of micro-bubble harmonic signals with minimal tissue harmonic production, enabling maximal discrimination between the opacified blood pool and myocardium (Figure
5
and
additional files 2
,
3
,
4
, and
5
).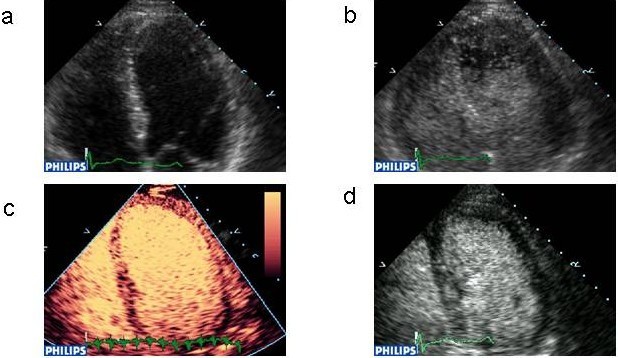 LV volume measurement
While there is clear evidence that contrast LVO can improve endocardial border definition, there are theoretical reasons why this may not necessarily translate into more accurate assessment of LV cavity size, volume and function. Attenuation artefacts sometimes obscure the endocardial surface, particularly in the basal segments and myocardial contrast may confuse distinction of the border between the blood pool and the endocardium. Most importantly, the use of any 2-D echo technique to assess left ventricular volumes and ejection fraction (with or without contrast), requires a standard imaging plane. Fore-shortened views or views not oriented through the centre of the ventricular cavity will lead to an underestimation of volume no matter how good the endocardial border definition [16].
Notwithstanding these potential technical limitations, contrast LVO using fundamental imaging improves the correlation between LV volumes obtained with echo and MRI [
17
]. In addition, accurate classification of systolic function by calculated ejection fraction has been improved from 70 to 94% by the use of contrast, with this improved accuracy almost exclusive to patients with poor baseline images. A subsequent study confirmed that, even using harmonic imaging, the measurement of LV volumes was optimised with contrast LVO, using electron beam CT as the standard of reference [
18
]. While the role of LVO for 3D imaging is currently undefined, it seems likely that this will be an important application of contrast echo (Figure
6
and additional files
6
,
7
,
8
and
9
).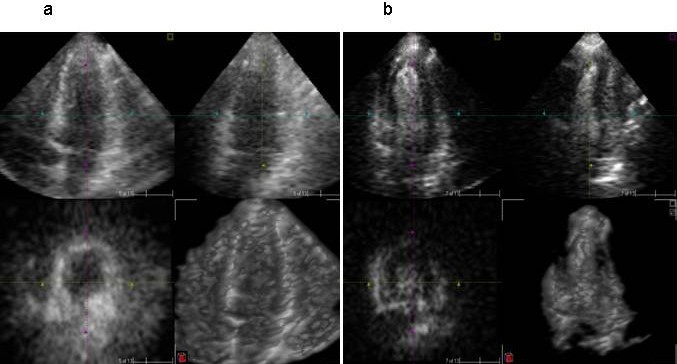 LVO and wall motion analysis
Enhanced endocardial border definition can improve the accuracy and inter-observer agreement for assessment of regional wall motion at rest [19]. Compared with MRI, the number of segments visualized was clearly improved after contrast (86% visualised before contrast, 99% after contrast). In addition, identification of segments with abnormal wall motion improved 82% to 100%, with the clinical utility of the contrast being greatest at the lateral and anterior walls. Importantly, the inter-observer agreement for assessment of individual wall segments was significantly improved and contrast also improved intra-observer agreement for determination of normal versus abnormal wall motion and assessment of the severity of wall motion abnormality compared with MRI. The ability of LVO to improve scoring and inter-observer variability of regional wall motion at rest has important implications for stress echocardiography.
Stress echocardiography is an established clinical tool with a high sensitivity and specificity for the diagnosis of coronary artery disease (CAD). During stress echo the diagnosis of CAD is based on detection of regional contractile dysfunction, and requires visualization of all myocardial segments to document or exclude abnormalities definitively. Reduced endocardial border definition is exacerbated during stress because of chest wall movement during hyperventilation and cardiac translational movement during tachycardia. With fundamental imaging, inadequate endocardial definition has been reported in up to 30% of stress echos [20]. In addition, Hoffman et al demonstrated that suboptimal studies have worse reproducibility and a poorer inter observer variability, with inter-institutional institutional observer agreement as low as 43% for studies with poor image quality[21] Tissue harmonic imaging, digital side by side analysis and standardised reporting criteria have alleviated but not overcome this problem[22].
Wall motion scoring and reproducibility during stress echo were even improved with air filled contrast agents and fundamental imaging[23]. Perflurocarbon filled agents demonstrated almost complete and consistent endocardial border definition [24], with superiority even to tissue harmonic imaging, and the greatest improvement being seen in patients with poorest image quality (26).
Despite these clear advantages, the critical clinical question of whether LVO actually improves the accuracy of stress echo for diagnosis of CAD remains unanswered – Dolan [
25
] came closest by investigating 229 patients undergoing dobutamine echo followed by angiography, the largest study of contrast stress echo (for LVO) with angiography as the gold standard. As previously documented, the endocardial border definition and inter observer variability was superior with contrast. Their important finding was that there was comparable sensitivity, specificity and accuracy for the presence of coronary disease between patients with poor resting images using contrast LVO and those in whom standard imaging gave good resting images. Moreover, our recent work shows that the improvement of LVO is an important contributor to the incremental benefit of MCE (Figure
7
and additional files
10
,
11
,
12
,
13
,
14
,
15
,
16
,
17
,
18
,
19
,
20
,
21
,
22
, and
23
).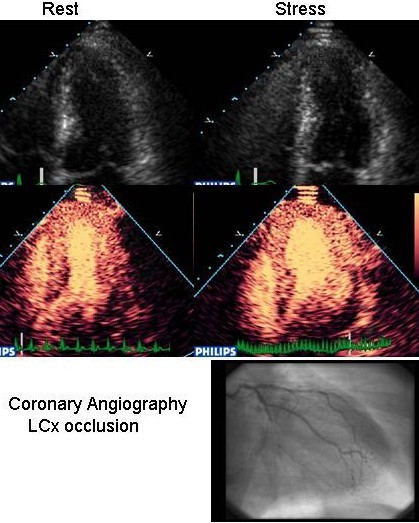 Thus, left ventricular opacification by contrast echo:
(1)

improves the visualization of myocardial endocardial border definition;

(2)

improves the accuracy of ventricular volume assessment and estimation of ejection fraction compared with standard fundamental and harmonic imaging.

(3)

improves the ability to identify and grade resting wall motion abnormalities

(4)

provides superior endocardial visualization while imaging at peak dobutamine stress and can enable the accuracy of a dobutamine stress echo in a technically difficult patient to be at least as good as that of a patient with good resting images;

(5)

reduces the inter-observer variability for all of the above.
From an economic standpoint, the use of contrast agents during stress echo has been calculated to be cost effective [26] with the cost of the contrast agent itself more than offset by savings incurred by reducing downstream repetitive testing, improved laboratory efficiency and a lower rate of false positive and negatives. However, the calculations are based on a formulas incorporating improved accuracy of the technique for the diagnosis of CAD, compared with standard imaging, which remains un-proven.
In summary, the use of contrast for LVO is justified for standard or stress imaging of technically difficult patients, and possibly, for calculation of ventricular dimensions in patients whom accurate quantitative serial follow up is critical, eg. chemotherapy or valvular heart disease. Other clinical uses of contrast for left ventricular opacification include confirming or excluding the presence of left ventricular thrombus and delineating other left ventricular structures like pseudoaneurysm, apical hypertrophic cardiomyopathy (Figure
8
and additional files
24
,
25
), and non-compacted left ventricles [
27
–
29
].

Additional File 25: Apical HCM contrast rest (AVI 4 MB)
III. Myocardial contrast echocardiography
IV. Conclusion
Advances in micro-bubble development, combined with the development of contrast specific imaging modalities have enabled not only excellent LVO, but reliable qualitative and quantitative assessment of myocardial perfusion by ultrasound, following intravenous injections of micro-bubbles. Use of this technology during stress echo increases sensitivity and improves the non-invasive evaluation of CAD.
Table 1
Technical details and clinical implications of contrast-specific imaging techniques
| High Power Intermittent Imaging | Acquisition difficulty | Amount of contrast used | Amplitude of micro-bubble backscatter | Dynamic range | Greyscale or colour | Processed Backscatter | Myocardial perfusion | Wall motion | Artefacts |
| --- | --- | --- | --- | --- | --- | --- | --- | --- | --- |
| Tissue Harmonic Imaging | challenging | low | high | wide | grey | harmonic | yes | no | yes |
| Ultraharmonic | challenging | low | high | wide | grey | harmonic | yes | no | yes |
| Pulse inversion | challenging | low | high | wide | grey | harmonic | yes | no | yes++ |
| Harmonic Power Doppler | challenging | low | high | wide | colour | harmonic | yes | no | yes |
| Low Power Continuous Imaging | | | | | | | | | |
| Power Pulse inversion | easy | high | low | narrow | colour | harmonic | yes | yes | yes |
| Power modulation | easy | high | low | narrow | either | fundamental | yes | yes | yes |
Table 2
Relationship between stenosis severity and stress on capillary pressure, myocardial blood volume and red cell velocity. Arbitrary numbers given for illustrative purposes only.
| | Distal coronary artery pressure | Arteriolar resistance | Pre-capillary pressure | Trans-capillary pressure | RBC velocity | MBV |
| --- | --- | --- | --- | --- | --- | --- |
| No stenosis REST | 90 mm Hg | Normal 45 mmHg | 45 mmHg | 30 mmHg | Normal | Normal |
| No stenosis STRESS | 90 mm Hg | ↓ Maximal 25 mmHg | 65 mmHg | 30 mmHg | ↑ | ↑ |
| Stenosis REST | 75 mm Hg | ↓ Sub-maximal 30 mmHg | 45 mmHg | 30 mmHg | Normal | Normal |
| Stenosis STRESS | 60 mm Hg | ↓ Maximal 25 mmHg | 35 mmHg | 30 mmHg | ↓ | ↓ |
Authors' Affiliations
(1)
Division of Medicine, University of Queensland, Brisbane, Australia
Copyright
© Moir and Marwick; licensee BioMed Central Ltd. 2004
This article is published under license to BioMed Central Ltd. This is an open-access article distributed under the terms of the Creative Commons Attribution License (http://creativecommons.org/licenses/by/2.0), which permits unrestricted use, distribution, and reproduction in any medium, provided the original work is properly cited.