Review
Open Access
Open Peer Review
This article has Open Peer Review reports available.
Echocardiography-based left ventricular mass estimation. How should we define hypertrophy?
Cardiovascular Ultrasound
2005
3:17
Received: 03 May 2005
Accepted: 17 June 2005
Published: 17 June 2005
Abstract
Left ventricular hypertrophy is an important risk factor in cardiovascular disease and echocardiography has been widely used for diagnosis. Although an adequate methodologic standardization exists currently, differences in measurement and interpreting data is present in most of the older clinical studies. Variability in border limits criteria, left ventricular mass formulas, body size indexing and other adjustments affects the comparability among these studies and may influence both the clinical and epidemiologic use of echocardiography in the investigation of the left ventricular structure. We are going to review the most common measures that have been employed in left ventricular hypertrophy evaluation in the light of some recent population based echocardiographic studies, intending to show that echocardiography will remain a relatively inexpensive and accurate tool diagnostic tool.
Keywords
cardiovascular diseaseechocardiographyepidemiologygeometric patternshypertrophyleft ventricularmalerisk factorsultrasonography
Introduction
The diagnosis of left ventricular hypertrophy (LVH) has been incorporated in the clinical practice as an important marker of cardiovascular disease. Its prevalence depends on classification criteria and specific population characteristics, ranging from 3% in normotensive community-based samples [1] to about three-quarters of hypertensive patients [2]. Irrespective of other risk factors, those in the upper distribution of left ventricular mass have their risk at least duplicated for future cardiovascular morbidity and mortality, as summarized in one metanalysis [3].
Echocardiography has been clinically employed for more than 30 years, becoming one of the most important non-invasive imaging methods in the evaluation of cardiac morphology and dynamics. However, the apparent simplicity in LVH evaluation by echocardiography conceals several intrinsic and usually unrecognized critical steps that may limit its clinical validity.
This manuscript introduces the basic principles of left ventricular mass (LV mass) estimation by echocardiography, focusing on the potential limitations and discrepancies of such measurement, in order to provide the appropriate background for understanding the rather complex issue of defining the cut-off values for LVH diagnosis in populations. Although advances in echocardiographic techniques has minimized the impact of many of the methodological details discussed here, an understanding of these topics is important, since most of the clinical and epidemiologic studies currently published are based on the echocardiographic criteria here described. We also intend to give a critical evaluation of the diagnostic performance and clinical validation of this imaging method.
Left Ventricular Measurement
Left ventricular mass is generally calculated as the difference between the epicardium delimited volume and the left ventricular chamber volume multiplied by an estimate of myocardial density. Following this principle, several methodologies have been used to calculate left ventricular mass and to define hypertrophy with its own flaws and strengths on each step (Table
1
), resulting in a wide range of values. Probably, the most significant echocardiographic limitation is related to inadequate quality imaging. Population-based studies are not able to obtain complete imaging in almost a quarter of screened patients [
4
,
5
]. mainly due to inappropriate acoustic windows.
Table 1
Critical Steps in Determining and Interpreting Left Ventricular Hypertrophy using Echocardiography
1. Imaging – Mode and Acquisition
2. Estimating Left Ventricular Volume
3. Defining Border Limits – Conventions of Layer Measurements
4. Calculating Mass – LV Mass Formulas
5. Indexing for Body Size
6. Determining Cut-off Points
   a. Using a reference sample (normality/statistical criteria)
   b. Using prognostic data (driven by clinical endpoint)
7. Evaluation of Left Ventricular Structure
8. Role of Additional Factors in LVM Determination
9. Clinical Correlates Associated with LVH
Evaluation of Left Ventricular Structure
Alternative concepts to LVH in the determination of left ventricular adaptive processes that take place in the overloaded ventricle assesses the fundamental components used in LV mass estimations, namely wall thickness and diastolic chamber dimension. The expected pathophysiological response of each of these components is theoretically distinct, as pressure overload leads to increased wall thickness and volume overload leads to chamber dilation. These differences cannot be assessed solely by LV mass calculations.
Relative Wall Thickness
Parietal thickness and its relation to LV chamber size have been recognized as measures of hypertrophy for more than 30 years [41]. Relative wall thickness (RWT) is measured in clinical studies both as: 2 * posterior wall thickness divided by LV diastolic diameter or, septal wall thickness + posterior wall thickness divided by LV diastolic diameter. Even thought these measures have been used interchangeably by some investigators, septal asymmetry (IVSTD/PWTD > 1.3) was present in about 5% of Framingham subjects [42] and can lead to an underestimation of relative thickness when only posterior wall thickness is used. The reference cut point value for increased relative wall thickness derived from upper limits of normal samples is usually 0.44 [43] or 0.45 [42], irrespective of which formula is used. RWT provides information regarding LV geometry independent of other calculations [44], precluding the requirement of most corrections. Nevertheless, significant LVH can occur without major changes in RWT, particularly when simultaneous pressure and volume overload are present.
Geometric Patterns
Attempts have been made to evaluate separately adaptive responses in parietal thickness increase and in dilation. Initially, Savage and coworkers [
42
] stratified Framingham patients with LVH in subgroups as: disproportionate septal LVH; concentric LVH; eccentric-dilated LVH, and eccentric non-dilated LVH. They identified in the 3 last categories increasing levels of systolic blood pressure, utilizing retrospective blood pressure data from 30-years of the cohort follow-up, suggesting a progressive character of adaptive mechanisms. A later approach defined 4 distinct geometric patterns: normal geometry, concentric remodeling, concentric hypertrophy and eccentric hypertrophy (Figure
2
). Ganau and coworkers [
43
], using echocardiographic hemodynamic estimates, reinforced the impression that the geometric patterns parallels progressive hemodynamic changes. Hypertensive target organ disease measured by fundoscopic alterations are also more frequent in hypertrophic geometric patterns [
30
].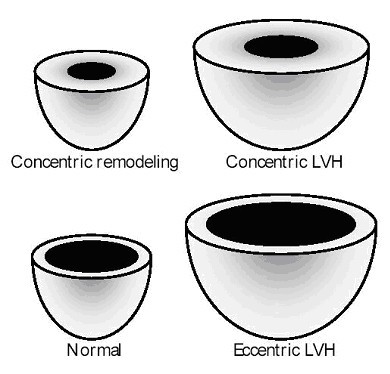 Koren and coworkers [45] used cut points of 125 g/m2 for LVH and 0.45 for RWT in a sample of hypertensive patients and found a 10-year incidence of cardiovascular events of 31% in those with concentric hypertrophy compared to 11% in those with normal geometry. In 1995, two cohorts studies were simultaneously published evaluating geometric patterns impact in the incidence of cardiovascular events. Verdecchia and colleagues [46] studying 694 patients with body surface area indexed LV mass lower than 125 g/m2, without additional adjustment for obesity and other metabolic risk factors, found a relative risk of 2.6 in the 272 patients with concentric remodeling compared to normal geometry patients. Krumholz and coworkers [47], studied 3209 from The Framingham study, indexed LVM by height using cut points of 143 g/m in men and 102 g/m in women and adjusted the models for obesity and other relevant covariates. Their analysis showed a relative risk of 2.1 for all cause mortality with concentric hypertrophy, but not additional risk in those classified as concentric remodeling. Relative risk became nonsignificant when a correction for LV mass was included in the models. Verdecchia and colleagues [48], afterwards could not demonstrate additional risk associated with increased relative wall thickness in those classified as hypertrophic. These data may suggest a smaller independent risk associated with increased wall thickness in hypertensive patients without LVH criteria.
Even though the additional prognostic role of geometric patterns over LVH may be lesser than initially supposed, this classification permits identification of determined adaptive processes. Concentric remodeling may be related to specific pathophysiological adaptations, particularly related to glucose and insulin metabolism [49–51] and studies in contemporary cohorts have also shown an association of concentric forms with diabetes [52, 53].
We believe that geometric classification, with adequate body size indexing and clearly defined standardization, may be an alternative and informative strategy to evaluate adaptive responses, providing information beyond that provided by classification with respect to left ventricular hypertrophy.
Role of additional factors in left ventricular mass and hypertrophy determination
Gender and body size are clearly identified as predictors of LV mass and LVH Definitions are usually corrected and/or stratified for these factors, as seen above. Many others constitutional factors and exposures may lead to changes in LV mass. Some of these factors are pathophysiologically involved in LVH and, moreover, interact among themselves, limiting the interpretation of the independent role of each one.
Clinical correlates of left ventricular hypertrophy
Several factors have been shown repeatedly in epidemiologic studies to associate with LVH. Investigation and prognostication based on LVH should take these factors in the account.
Blood Pressure and Hypertension
Numerous population based studies have unequivocally shown an association between hypertension and LVH [4, 5, 65, 75]. Other reports usually stratify their analysis by or restrict to those with hypertension to allow better evaluation of additional risk factors [45, 73, 76, 77]. It is interesting that even within the normal range, increases in blood pressure is related to an increased LV mass [67]. This increment may be attributed to the classical pathophysiological concept of hypertrophic response to increased overload, although neuro-humoral and genetic factors have been also implicated [78]. LVH association with hypertension is so evident that it is recognized as target organ damage in hypertensive disease by several clinical practice guidelines, representing an intermediate unfavorable prognostic marker [79, 80].
Diabetes and The Metabolic Syndrome
Together with obesity and hypertension, diabetes has been implicated as an important determinant of left ventricular mass in most population-based studies [5, 52, 62, 81, 82]. Myocardial and systemic mechanisms, as an increased extra-cellular matrix, vascular hypertrophy and vasoconstriction [83], have been attributed to this hypertrophic response.
An adaptive response has been shown to diverse degrees of altered carbohydrate metabolism, as in Cardiovascular Health Study [82] and in The Strong Heart Study cohort, where diabetes [52], impaired glucose tolerance [84] and insulin levels[85] where associated with increased LV mass. Although associated with an increase in left ventricular mass, hyperinsulinemia [49] and insulin resistance [50] show a stronger association with concentric remodeling. Concentric hypertrophy is more pronounced in diabetes presenting with microalbuminuria [51, 86]., which could imply a progressive adaptive process.
A gender difference in the left ventricular response to diabetes, with an increase in parietal thickening, rather than hypertrophy, being prominent in women has been suggested [81, 85, 87].
LV mass increase is also seen in individuals with other known risk factors, as in those linked to the metabolic syndrome [62, 88]., where pathophysiological aspects related to this syndrome may directly affect ventricular adaptive mechanisms.
Other Risk Factors
A multitude of other factors have been shown to be independently related to LV mass. It should be emphasized that estimates of the relative magnitude of these factors varies according to the degree of adjustment for other known risk factors in statistical modeling. Primary valvular and myocardial disease are clearly related to LV mass increase but will not be subject of our review.
Environmental exposures such as alcohol consumption [89], salt intake [90], smoking [4, 89]. and increased leisure-time physical activity in men [91] have been associated to increased LV mass. Other factors such as blood lipids, pulmonary function, the heart rate and hematocrit have also been implicated but with some inconsistency among different studies [4, 75, 92, 93]. Also, low weight at 1 year-old has been suggested as LV hypertrophy risk factor, concordant with Barker's Theory of the fetal and early life origin of chronic disease[94].
Clinical validity and impact of such factors is controversial, but it may be important to consider them as relevant potential confounders in epidemiological studies investigating the role of novel risk factors in LVH and the role of LVH in disease prediction.
Reproducibility
Each step in LV mass measurement is a potential source of variability. In M-mode measurement, differences of approximately 5% may translate into differences in LV mass between 8% and 15% [95], which can represent about 50 g. This variability can be attributed particularly to the measurement of wall thicknesses and border layer definition [96–98]. Reproducibility is slightly better using the ASE rather than the Penn convention [98]. Additional smaller differences in left ventricular volume determinations can also be attributed to changes in body position or circulatory loading conditions [99].
Intraobserver M-mode measurements may vary about 5% between echocardiographic studies, while interobserver variability may reach 15%. Some trials retesting patients found differences of up to 30 g between tests [100, 101]. When all sources of variability are taken into account, differences in the estimates are not small, since they approach a difference in LV mass values that is associated with a clinically important increased cardiovascular risk. Strategies such as core laboratory reading, strict protocols and regular training may keep this variability in an acceptable range for clinical and epidemiologic studies.
Comparison with other Imaging Methods
Autopsy is classically employed as the gold standard in heart hypertrophy studies, because it objectively measures LV mass. However, use of reported data is complicated by the fact that macroscopic LVH definition criteria are usually more varied than those used in non-invasive testing [102–105], as well as by the fact that different studies have applied different indexing techniques for body size.
From a histological point of view, myocytes hyperplasia is uncommon in adults. Pathologic studies and animal models suggest evaluating hypertrophy suggest that myocytes keep their integrity and functionality until an increase up to 50 -70% above normal [106]. This is concordant with the Linzbach's critical level of LVH, above which cytopathological changes occur with disruption of myocardial tissue integrity and functioning [107].
LV mass can also be calculated from angiography. Although diverse formulas have been employed and validated [13], correlation with echocardiographic calculated LV mass is fair to moderate, with correlation coefficients of between 0.50 and 0.70 [108].
Radioisotopic gated myocardial perfusion imaging with 99mTc-Sestamibi has been employed to estimate LV mass. Its accuracy is limited by image construction and processing variability, resulting in a limited correlation with echocardiographic LV mass [109]. However, Maruyama and coworkers [110] found a good correlation coefficient (r = 0.96) between gated 99mTc-tetrofosmin myocardial perfusion and echocardiographic based LV mass estimations, using an automated quantitative software.
Newer imaging methods have been employed in LV mass determination. Computed tomography has a good correlation with necropsy findings (r = 0.97). In vivo intrareader variability was estimated to be equivalent to 19 g and intereader 28 g [111]. Magnetic resonance imaging (MRI) has emerged as a highly reproducible and accurate imaging methodology in the evaluation of LV geometry and mass [112–115]. As a result, it is of great value in evaluating distorted ventricles and its high accuracy may partially counterbalance its costs, due to the smaller samples needed. However, echocardiography costs are considerably lower in most of the countries, there is no significant radiation exposure [116], and just a few-population based studies have used these costly and less available newer imaging techniques.
Real time three-dimensional echocardiography is still experimental, but has incorporated technical advantages in image acquisition and processing. This method may permit accurate real time LV mass measurement without the caveats of geometrical assumptions. Preliminary data suggest that real time three-dimensional echocardiography is at least as accurate and reproducible as MRI calculations [117]. Contrast echo with microbubbles also permits increasing accuracy, particularly in those with inadequate acoustic windows or with distorted ventricles [118].
Conclusion
LV mass estimation and LVH diagnosis role in cardiovascular disease management is based on epidemiological research and also on clinical grounds. Despite more than 30 years of use echocardiography-based LVH calculation and definition are still variable among ultrasound technicians and laboratories around the world, leading to inconsistency among epidemiological studies and possibly limiting its clinical application. Several technical aspects of the echocardiographic exam can generate substantial errors in LV estimations, some of them equivalent in size to those expected to result from pathophysiological processes and therapeutic strategies. Also, adequate indexing for body size seems to be a critical point in defining pathological hypertrophy. LV mass is closely related to the other known cardiovascular risk factors, that must be taken into account concomitantly. Finally, since the risk associated to LV mass appears to be progressive, without a clear threshold, additional input can be added at different baseline risks, defined by the prevalence of other known cardiovascular risk factors. The addition of multiple newer markers, however, leads to a small increment in risk stratification capacity over formulas applying only classical risk factors [119]. Despite these limitations, the role of echocardiography in LV mass determination is of great clinical value.
Considering all the aspects reviewed, use of echocardiography in clinical studies must be standardized applying already defined criteria. In delineating a study, if two-dimensional is impractical, then two-dimensional guided M-mode, using ASE criteria and Devereux modified formula, will allow estimation of LV mass with an acceptable level of accuracy. Additionally, adequate adjustment of related covariates must be undertaken. LHV/Ht2.7greater than 51g/m2.7 appears to be a reliable criteria to define LVH, and the inclusion of a measurement of relative wall thickness, individually or classified as geometric patterns improves the identification of the adaptive mechanisms involved.
Echocardiography is widely available all over the world and major technical improvements have been achieved in the last two decades. Given careful attention with respect to the technical aspects appraised in this review, echocardiography will remain a safe, inexpensive and accurate tool for both the clinical diagnosis and epidemiologic investigation of left ventricular hypertrophy
Authors' Affiliations
(1)
Graduate Studies Program in Cardiology, School of Medicine. Federal University of Rio Grande do Sul. Porto Alegre – RS., Brazil
Copyright
© Foppa et al; licensee BioMed Central Ltd. 2005
This article is published under license to BioMed Central Ltd. This is an Open Access article distributed under the terms of the Creative Commons Attribution License (http://creativecommons.org/licenses/by/2.0), which permits unrestricted use, distribution, and reproduction in any medium, provided the original work is properly cited.