Review
Open Access
Open Peer Review
This article has Open Peer Review reports available.
Echocardiographic quantification of myocardial function using tissue deformation imaging, a guide to image acquisition and analysis using tissue Doppler and speckle tracking
Cardiovascular Ultrasound
2007
5:27
Received: 23 July 2007
Accepted: 30 August 2007
Published: 30 August 2007
Abstract
Recent developments in the field of echocardiography have allowed the cardiologist to objectively quantify regional and global myocardial function. Regional deformation (strain) and deformation rate (strain-rate) can be calculated non-invasively in both the left and right ventricle, providing information on regional (dys-)function in a variety of clinical settings. Although this promising novel technique is increasingly applied in clinical and preclinical research, knowledge about the principles, limitations and technical issues of this technique is mandatory for reliable results and for implementation both in the clinical as well as the scientific field.
In this article, we aim to explain the fundamental concepts and potential clinical applicability of strain and strain-rate for both tissue Doppler imaging (TDI) derived and speckle tracking (2D-strain) derived deformation imaging. In addition, a step-by-step approach to image acquisition and post processing is proposed. Finally, clinical examples of deformation imaging in hypertrophic cardiomyopathy (HCM), cardiac resynchronization therapy (CRT) and arrhythmogenic right ventricular dysplasia/cardiomyopathy (ARVD/C) are presented.
Keywords
Right VentricularCardiac CycleCardiac Resynchronization TherapyTissue Doppler ImageMyocardial Segment
Background
There is an increasing need for diagnostic modalities able to objectively quantify myocardial function. Quantification of regional myocardial function with ultrasound is challenging on its own. Visual assessment of wall motion and thickening requires extensive training[1] and remains highly subjective[2]. In addition to this visual assessment on 2-dimensional B-mode images and new 3-dimensional recordings, "classic" M-mode echocardiography can be used to evaluate myocardial thickening. Unfortunately, M-mode can only be used in a limited number of segments since it has to be perpendicular to the investigated myocardial segment. New techniques such as anatomical M-mode have partly overcome the problems with insonation angle, at the expense of a reduced temporal resolution. Moreover, this method only provides uni-dimensional semi-quantitative assessment of myocardial thickening/thinning without information on longitudinal or circumferential function. Tissue velocity imaging along the long axis of the ventricle is a commonly used and well validated technique to quantify longitudinal ventricular function. Tissue velocities at the ventricular base represent the integral of myocardial shortening velocity from base to apex and therefore provide information on global, rather than on regional ventricular function.
Tissue deformation imaging is a recently introduced technique which enables the objective assessment of regional myocardial deformation assessed by ultrasound based strain and strain rate using myocardial Doppler data or B-mode images. This is a promising new technique to quantify regional left and right ventricular function and appears of added value in unmasking or unraveling cardiac pathology (table
1
). Knowledge of its principles and limitations is mandatory for proper application and reliable interpretation of the results both in the clinical as well as the scientific setting. This review therefore aims to explain the basic concepts and potential clinical applicability of strain (ε) and strain-rate (SR) for both tissue Doppler derived and speckle tracking derived deformation imaging. In addition, a step-by-step approach of image acquisition and post processing will be discussed.
Table 1
The additional value of tissue deformation imaging in the field of echocardiography
| Additional value | Potential utilities |
| --- | --- |
| Unmasking subtle pathology | Early diagnosis coronary artery disease [28] and cardiomyopathy [23] |
| Quantifying myocardial function | Objective assessment of regional function [29] |
| Visualizing timing issues | Quantification of timing within a heart cycle [30] |
| Detecting subtle changes over time | Therapy evaluation in patient follow-up [31] |
| Improving inter/intra observer variability | Increasing accuracy of stress echocardiography [32] |
Myocardial deformation
Following electro-mechanical activation, the myocardium deforms during systole due to sarcomere shortening. This active deformation causes a reduction in intracavitary size, resulting in the ejection of blood from the ventricle. In diastole the original ventricular geometry is restored due to active relaxation and passive filling following atrial contraction. Since myocardial tissue is virtually incompressible, the volume of the ventricular wall remains the same during the cardiac cycle and, thus, deforms in three dimensions. During systole there is three-dimensional deformation which can be expressed in three ventricular coordinates: a longitudinal shortening and a circumferential shortening and a radial thickening.
Myocardial deformation is expressed as a one dimensional parameter: strain (ε). It defines the total deformation during the cardiac cycle relative to the initial length at the onset of the cardiac cycle, and is expressed in percentages (figure
1
). This implies that longitudinal and circumferential (systolic) shortening result in a negative strain and radial (systolic) thickening in a positive strain. When the initial length of the investigated myocardial segment is known during the cardiac cycle, the relative length change (strain) can be calculated throughout the entire cardiac cycle. The local end-systolic strain value reflects the regional ejection fraction and the global LV end-systolic strain reflects the LV ejection fraction [
3
] (Figure
2
). When visualized in a graph (figure
3
) the different phases of the cardiac cycle can usually be identified: during systole the strain values become more negative (S-wave) with the negative peak at the aortic valve closure, representing the maximal longitudinal myocardial shortening during contraction (or peak systolic strain). In diastole the strain values return towards zero (towards the original length of the analyzed myocardial segment at the onset of the cardiac cycle) in three phases: (1) the early, or rapid filling phase (E-wave) followed by (2) a plateau phase, or diastasis and finally (3) atrial filling (A-wave).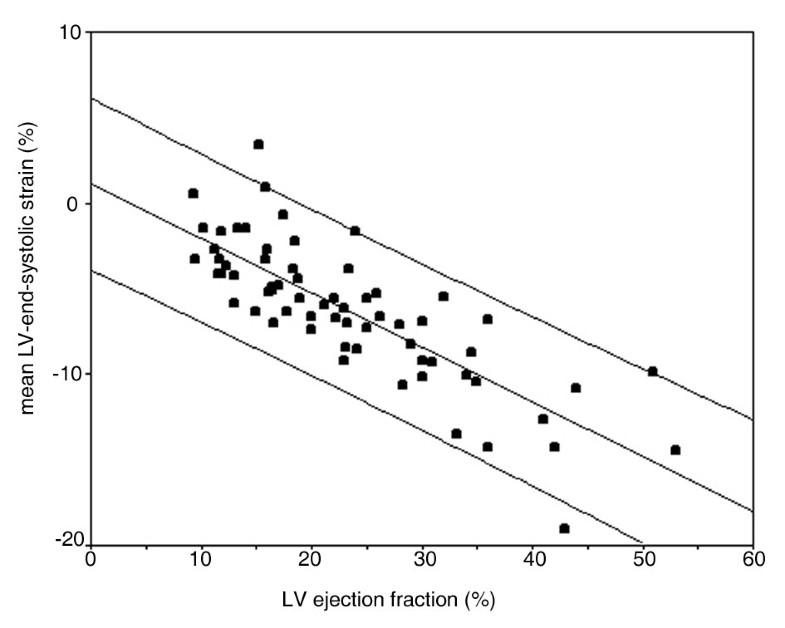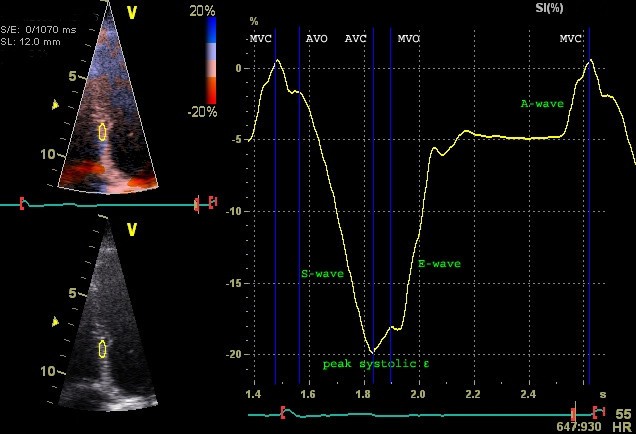 The speed at which the myocardial deformation occurs is the strain-rate (SR) and is expressed in s
-1
. SR depicts the change in strain over a period of time. Thus, when the myocardium shortens there is a negative SR and, the steeper the slope of the strain-curve, the higher the SR-values. The peak systolic strain rate correlates well to loading independent indices of contractility and hence provides valuable information on regional contractile function [
3
,
4
]. Comparable to strain, when plotted in a graph (figure
4
) the different cardiac phases can be recognized: in systole a negative deflection indicating myocardial shortening with a peak systolic SR at the steepest part of the strain-curve, and in diastole two positive deflections: the E- and A-wave and diastasis when no change in strain occurs.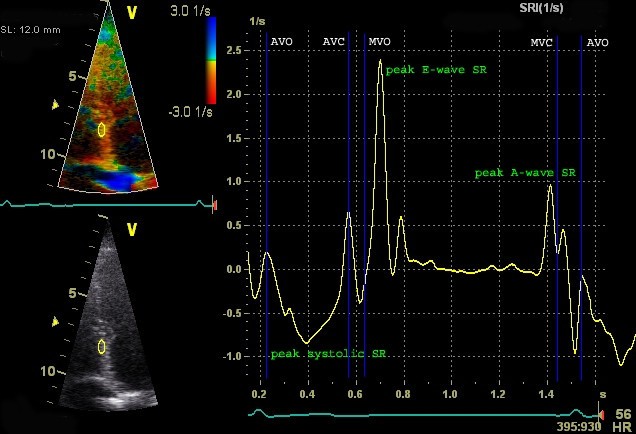 To optimally assess regional myocardial function, both strain and SR need to be calculated since they provide complementary information: end systolic strain estimates ejection fraction and peak systolic SR is a measure of contractility. By analogy, when driving a car both the total distance of the journey as well as the speed of the car during the journey provide valuable information.
Tissue deformation imaging
Currently there are two different methods to calculate myocardial deformation using ultrasound: tissue Doppler derived strain and two-dimensional strain derived from B-mode images (speckle tracking). These two techniques will be briefly explained in the following section. Notably, differences in software packages may exist between manufacturers [5]. The examples in this review are based on the commercially available software packages from GE Vingmed (GE Vingmed ultrasound, Horten, Norway).
Speckle tracking/two-dimensional strain
Comparability between TDI and 2DSE
Both TDI and 2DSE derived parameters are accurate quantitative measures of local longitudinal myocardial deformation, and thus (dys)function and will general yield comparable values for local deformation and deformation rates in both the LV [16] and the RV [18]. Variability in the measurements and technical factors however, make that minor differences between the calculated parameters should be anticipated when comparing values of TDI and 2DSE in a single patient.
Most of the observed differences between the two techniques are those inherent to the limitations described earlier. For example, TDI is not possible when the investigated wall is not optimally aligned, or in the presence of a stationary artifact, whereas 2DSE is less influence by these interferences. On the other hand, 2DSE has a relative low temporal resolution hindering tracking in the presence of high heart rates where also undersampling becomes an issue [20], this is not a problem with TDI, where frame-rates are higher (up to 250 FPS).
Practical differences between the two techniques are an additional factor when choosing between one or the other. Training requirements for both image acquisition and post-processing are equal, although TDI is generally perceived as more difficult to master. This is particularly the case for post-processing. In our experience, acquisition time is comparable between the two techniques. Post-processing time, however is significantly shorter with speckle tracking [
21
] with approximately 2 minutes for 2DSE and 11 minutes for TDI analysis of 16 segments from 3 apical views. This mainly results from a more rapid tracking and parameter extraction in 2DSE, which is automated. The number of segments which can be analyzed with either technique is comparable (Table
2
, feasibility), although some studies reported a lower feasibility for 2DSE compared to TDI [
21
]. The reproducibility of 2DSE is generally better in the LV than with TDI (Table
2
). In the RV, this difference is not seen. Despite the advantages 2DSE offers compared to TDI, we feel that both techniques are of equal or complementary value in the quantification of myocardial function.
Table 2
Feasibility and reproducibility. Feasibility is expressed as a percentage of analyzable segments in the LV [20,29] and RV [18]. Reproducibility is expressed as 95% limits of agreement in the LV [20] and RV [18]
TDI

2DSE

LV

RV

LV

RV

Feasibility

85; 93%

93%

88%

93%

Reproducibility

Interobserver

Strain (%)

-17.1 ; 28.5

-9.2 ; 9.8

-7.5 ; 9.7

-8.6 ; 11.8

SR (s-1)

-0.76 ; 0.96

-0.91 ; 0.81

-0.77 ; 0.83

-0.79 ; 0.81

Reproducibility

Intraobserver

Strain (%)

-9.4 ; 9.6

-9.3 ; 9.9

-0.16 ; 2.28

-13.1 ; 15.3

SR (s-1)

-0.42 ; 0.54

-0.85 ; 0.91

-0.54 ; 0.54

-0.73 ; 0.75
Clinical examples
Clinical and experimental research on the potential role of deformation imaging in various clinical settings is currently an on going topic. The additional value of deformation imaging in echocardiography has been proposed in various pathological conditions although more research is needed [22] In addition, tissue deformation imaging has given us recent new insights into ventricular function, adaptation and mal-adaptation in response to pathology. In the following section we present some clinical examples (case reports) of tissue deformation imaging (either TDI or 2DSE) in various cardiac pathology, underlining the additional advantage in the field of echocardiography.
Hypertrophic cardiomyopathy
Hypertrophic (obstructive) cardiomyopathy (HCM) is a genetic disorder characterized by hypertrophy of the myocardium. The differentiation of HCM from hypertensive left ventricular hypertrophy (H-LVH) on the basis of morphological information obtained by conventional echocardiography is cumbersome. Myocardial disarray is a typical histopathological finding in HCM and provides a substrate for potential lethal ventricular arrhythmias. This disarray also induces functional abnormalities, which could be detected using tissue deformation imaging. A recent article found that this technique reliably distinguishes HCM from H-LVH with a cut-off value for peak systolic strain of -10.6% [23]
In the following example we present an asymptomatic first degree family member (male, 44 years) of a patient with HCM. This patient had the same mutation as the index patient. On conventional echocardiography a septal thickness of 12 mm (upper limit of normal) was measured with no wall motion abnormalities. Deformation imaging (TDI) unmasked a pathologic deformation in the basal segment of the septum with prestrech, a low peak systolic strain (-3.3%) and post-systolic shortening (Figure
11
).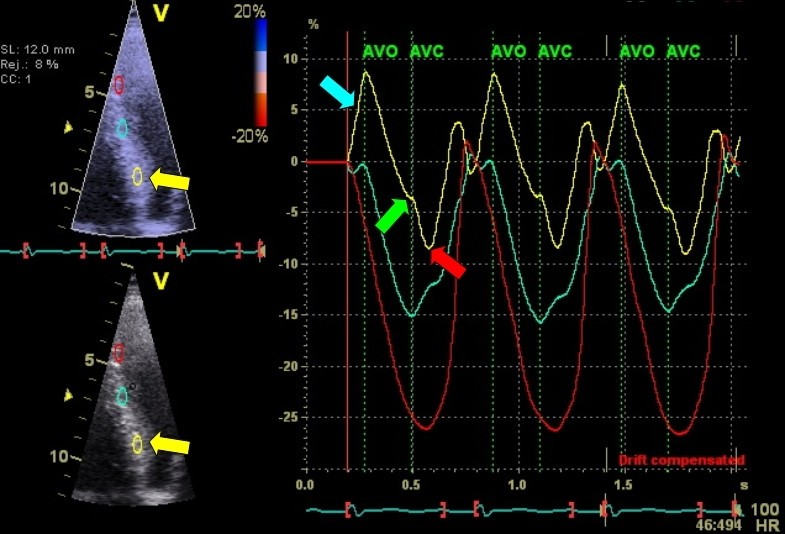 CRT-patient selection
A potential clinical role of tissue deformation imaging is for patient selection for cardiac resynchronization therapy. The maximal delay between wall segments can be visualized using different parameters. The application of regional deformation imaging in this patient group has the advantage to be able to carefully calculate timing issues of regional deformation properties of the myocardium, independent of translated displacement induced by adjacent or opposite wall segments. In addition, LV ejection fraction can be estimated using global LV end-systolic strain (Figure
2
).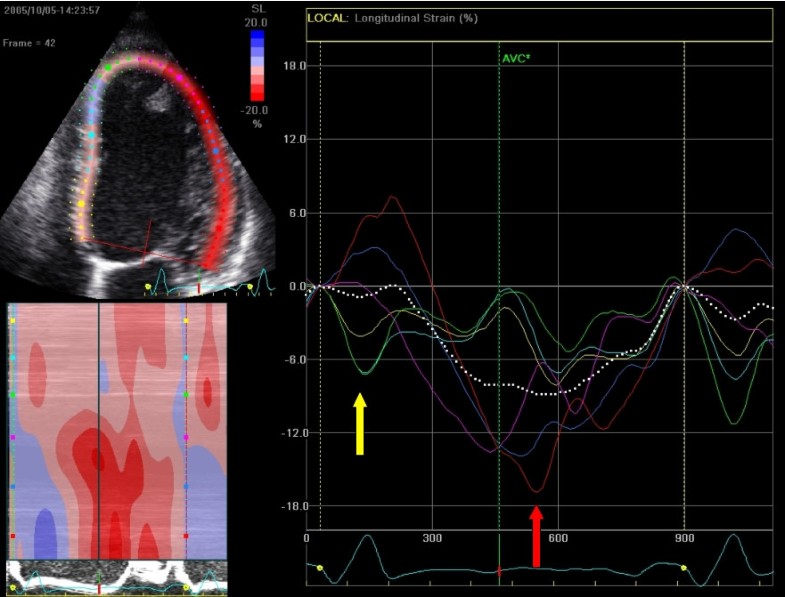 In the following example a patient (male, 54 years) is presented fulfilling CRT criteria (LBBB with a QRS-width > 120 ms, NYHA-class III-IV and an ejection fraction of 22%) who was implanted with a CRT-device. Prior to implantation, we found a septal-to-lateral delay to peak strain value of 425 msec using 2DSE (Figure
12
). A bulls-eye plot of peak systolic strain values is presented in figure
13
. After 8 months follow up after device implanation, there was a significant improvement of ejection fraction (to 42%) a reduction in LV volume and a dramatic improvement of longitudinal deformation during systole (figure
14
). 2DSE revealed a nearly synchronous longitudinal shortening with a septal-to-lateral delay of -60 msec (figure
15
).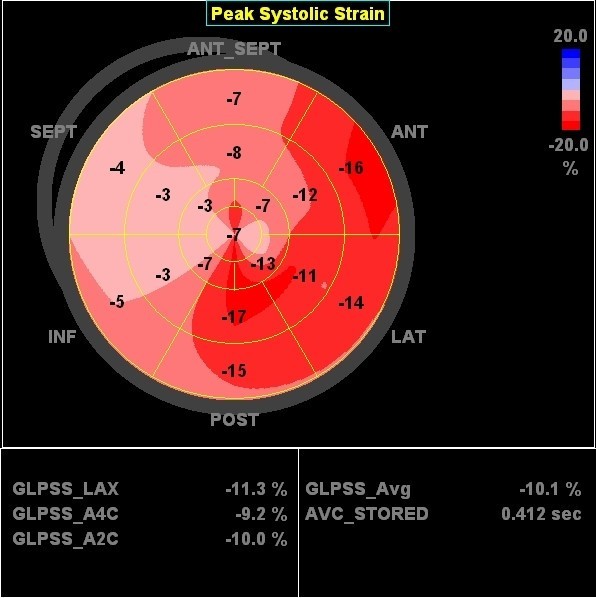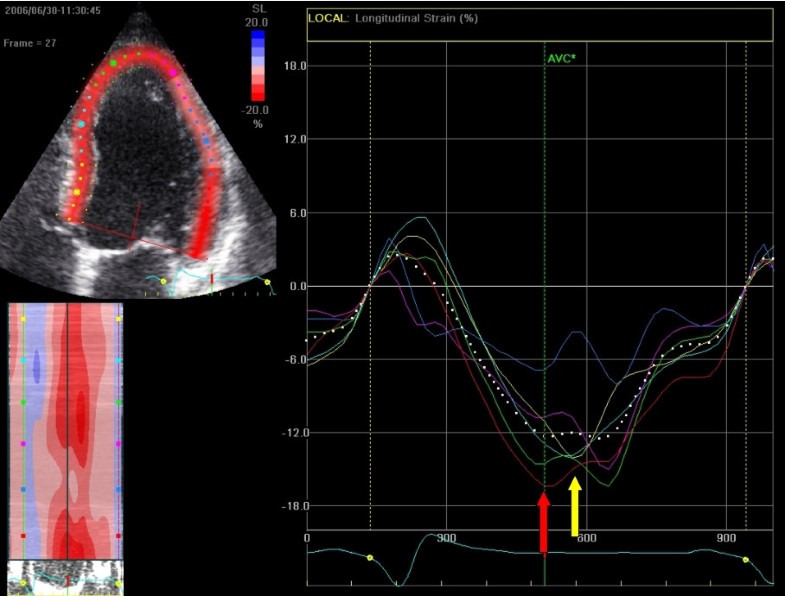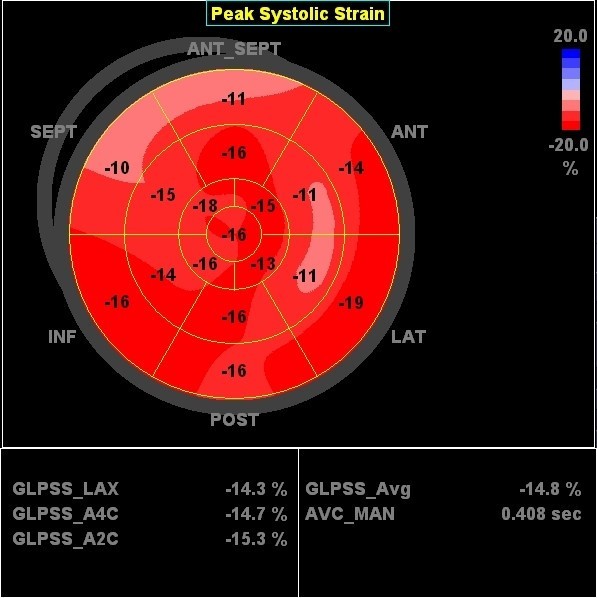 Right ventricular function
Although clinical and preclinical research of left ventricular function is broadly being explored, little is known about normal and pathologic right ventricular (RV) function and there is an urgent need for more insight in RV function by quantitative techniques [24] In our own experience, the quantification of regional RV function using either 2DSE or TDI is feasible and reproducible [18] This technique has a potential place in the assessment and follow up of patients with primary (see below) or secondary RV disease such as pulmonary artery disease [25].
The following case is a 36 year old woman evaluated for arrhythmogenic right ventricular dysplasia (ARVD), an inherited cardiomyopathy characterized by fibro-fatty myocardial replacement predominantly in the right ventricle. She has a first degree family member diagnosed with ARVD. No genetic defect was found in either. The RV was not dilated, no wall motion abnormalities could be detected nor any other typical ARVD findings on conventional echocardiographic examination [
26
]. Tissue Doppler strain analysis as well as 2DSE revealed an abnormal deformation pattern in the basal segment (Figure
16
/Additional File
3
). Based on this finding, this patient scored a minor criterion (regional RV hypokinesia) fulfilling the diagnostic criteria for ARVD (one major and two minor criteria).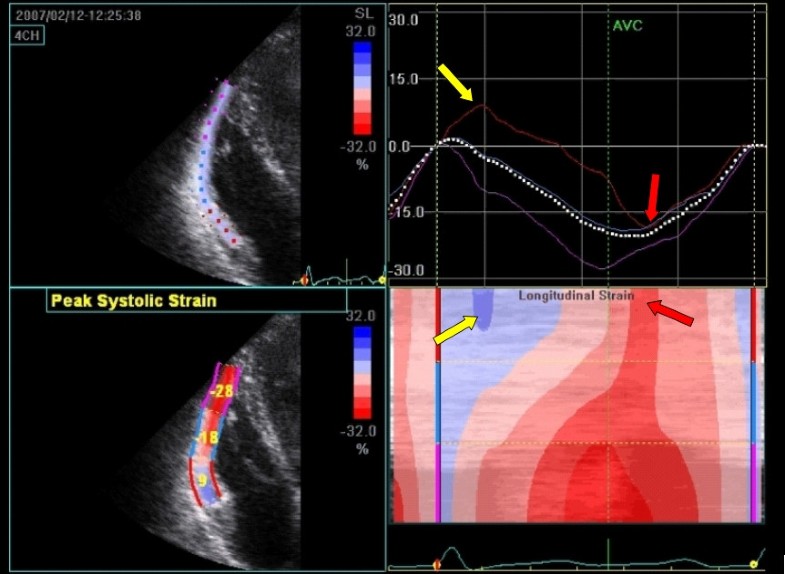 Future perspectives
Several new developments are to be expected, not only to improve tracking quality, reduction noise and improve post processing time [27], but also to make this promising technique more clinically appealing. New automated programs for 2DSE ("automated function imaging"), for instance, allow rapid evaluation of left ventricular deformation in a 17 segment model and visualization of peak systolic strain and post systolic strain index in a bulls-eye figure.
Angle dependency and the impact of artifacts in TDI derived parameters and the low temporal resolution in 2DSE are important limiting factors in the technology. A combination of the two techniques (high quality, angle independent gray scale data and Doppler data with high temporal resolution) could enhance the robustness of the technique and reduce the post-processing time.
MRI-tagging is a technique to calculate deformation in three dimensions. As explained earlier, new echocardiographic techniques have "upgraded" the one-dimensional tissue Doppler to 2DSE. A next step in development is the calculation of strain in three dimensions. With the recent advances in three-dimension echocardiography, this could be possible in the near future. Currently, the low temporal resolution is a severe limitation which has to be overcome before accurate calculations of deformation parameters are feasible.
Conclusion
Tissue deformation imaging is a rapidly evolving technique able to objectively evaluate regional myocardial function. In this review we aimed to give insight into the basic concepts, image acquisition, data analysis and potential clinical applications. Although this quantification provides both the clinician as well as the researcher with detailed information on the myocardial function during the cardiac cycle, it should be kept in mind that, like all ultrasound techniques, image acquisition and quality remain a limiting factor. Although tissue deformation imaging is a promising technique, knowledge of image acquisition, post processing techniques and interpretation of strain and strain-rate graphs are essential to reliably differentiate myocardial pathology from artifacts both in the clinical setting, and for reliable and reproducible research. Its limitations notwithstanding, tissue deformation imaging is an accurate and robust techniques that may successfully fulfill the need for quantitative assessment of myocardial function. The application of this technique in the clinical setting is currently not routine, but the potential of tissue deformation imaging and the need for quantitative measurements of ventricular function should promote its introduction in various clinical settings in the near future.
Authors' Affiliations
(1)
Department of Cardiology, University Medical Centre Utrecht, The Netherlands
(2)
Department of Cardiology, St. Elisabeth Hospital Tilburg, The Netherlands
Copyright
© Teske et al; licensee BioMed Central Ltd. 2007
This article is published under license to BioMed Central Ltd. This is an Open Access article distributed under the terms of the Creative Commons Attribution License (http://creativecommons.org/licenses/by/2.0), which permits unrestricted use, distribution, and reproduction in any medium, provided the original work is properly cited.