Review
Open Access
Open Peer Review
This article has Open Peer Review reports available.
Limitations and difficulties of echocardiographic short-axis assessment of paravalvular leakage after corevalve transcatheter aortic valve implantation
Cardiovascular Ultrasound
2016
14:37
Received: 7 June 2016
Accepted: 25 August 2016
Published: 6 September 2016
Abstract
To make assessment of paravalvular aortic leakage (PVL) after transcatheter aortic valve implantation (TAVI) more uniform the second Valve Academic Research Consortium (VARC) recently updated the echocardiographic criteria for mild, moderate and severe PVL. In the VARC recommendation the assessment of the circumferential extent of PVL in the short-axis view is considered critical. In this paper we will discuss our observational data on the limitations and difficulties of this particular view, that may potentially result in overestimation or underestimation of PVL severity.
Keywords
Aortic valveRegurgitationParavalvularEchocardiography
Background
Transcatheter aortic valve implantation (TAVI) is a relatively new therapeutic option in patients with aortic stenosis (AS) who are at high-operative risk or inoperable [
1
,
2
]. Despite its favourable hemodynamics, [
2
] paravalvular aortic regurgitation (AR) or leakage (PVL) after TAVI is common and is considered by many the Achilles' heel of TAVI because there is growing evidence suggesting a significant association of PVL with short- and long-term mortality [
3
]. This may even become more troublesome as these therapies are offered to progressively younger patients. Unfortunately, the transthoracic echocardiographic assessment of PVL severity is extremely challenging. In contrast to AR in native valves, a zone of flow convergence and vena contracta, the single most important parameters in assessment of AR severity, [
4
,
5
] do not exist or are difficult to image in patients with PVL. In contrast, the PVL is of variable size, starting somewhere at the level of the aortic annulus, running a poor to visualize course next to the stent frame with an exit of the flow into the left ventricle (LV) next to the inflow-end of the stent frame or into the LV "outflow tract", in case of an eccentric jet passing through the stent frame before its end. In addition, even in native valves there has been no validation for adding multiple jets as may be frequently encountered in TAVI patients (Fig.
1
). In the presence of a surgical aortic valve prosthesis it has been suggested that careful imaging of the neck of the jet in a short-axis (SAX) view, at the level of the prosthesis sewing ring, allows determination of the circumferential extent of PVL serving as a semi-quantitative measure of severity. According to this method a circumferential extent less than 10 % suggests mild PVL, 10 % to 20 % moderate PVL, and more than 20 % severe PVL (Fig.
2
) [
5
,
6
]. However, it should be noticed that this is only an approximate guide and its classification is strictly arbitrary, without any validation (the PVL volume of a given circumferential extent is unknown). Despite all the mentioned limitations and recognizing that all imaging windows should be used, the updated Valve Academic Research Consortium (VARC) adopted the SAX criterion as "critical" in assessing the number and severity of paravalvular jets in patients who underwent TAVI [
7
]. Surprisingly, in the most recent VARC-2 publication [
8
] the arbitrary cut-off value to define severe PVL was changed to more than 30 % (rather than the earlier published 20 %) [
5
–
7
] without any argument or reference given. This cut-off seems to be derived from a study published a year later, performed by some of the authors involved in the VARC2 publication [
9
]. Although we agree with the VARC-2 authors that – in absence of other simple and useful parameters – the SAX analysis is of vital importance in assessment of PVL it may result in significant underestimation or overestimation of PVL because of various reasons. Because we could in the literature not identify any detailed information on the specific problems of the SAX analysis we will in this expert opinion manuscript review the inherent limitations and difficulties of the SAX analysis in the estimation of PVL severity based on our observations.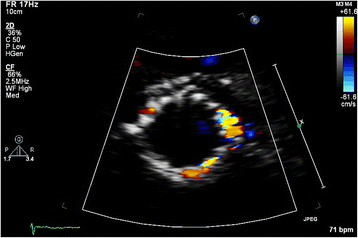 Conclusion
The transthoracic echocardiographic SAX analysis of PVL is prone to important limitations and difficulties that may result in overestimation or underestimation of PVL severity. Future guidelines should incorporate these limitations and provide clear advices how to deal with them, in particular in case of eccentric jets and variability in jet size.
Abbreviations
2D:

Two dimensional
3D:

Three dimensional
AR:

Aortic regurgitation
AS:

Aortic stenosis
LV:

Left ventricle
PVL:

Paravalvular regurgitation
SAX:

Short-axis
TAVI:

Transcatheter aortic valve implantation
VARC:

Valve Academic Research Consortium
Declarations
Acknowledgements
None.
Funding
There are no sources of funding.
Availability of data and materials
Available data is presented in the main paper.
Authors' contributions
ML and OS conceived the study idea, performed data analysis and interpretation, and drafted the manuscript. All other authors reviewed and edited the manuscript. All authors read and approved the final manuscript.
Competing interests
The authors declare that they have no competing interests.
Consent for publication
No consent for publication to disclose.
Ethics approval and consent to participate
This study was approved by the local institutional board and all patients provided informed consent as mentioned above.
Open AccessThis article is distributed under the terms of the Creative Commons Attribution 4.0 International License (http://creativecommons.org/licenses/by/4.0/), which permits unrestricted use, distribution, and reproduction in any medium, provided you give appropriate credit to the original author(s) and the source, provide a link to the Creative Commons license, and indicate if changes were made. The Creative Commons Public Domain Dedication waiver (http://creativecommons.org/publicdomain/zero/1.0/) applies to the data made available in this article, unless otherwise stated.
Authors' Affiliations
(1)
From the department of Cardiology, Thoraxcenter, Erasmus University Medical Center, Rotterdam, The Netherlands
(2)
From the department of Cardiology, Ospedali Riuniti, Università degli Studi di Foggia, Foggia, Italy
(3)
From the Cardialysis Cardiovascular Core Laboratory, Rotterdam, The Netherlands