Review

Open Access

Open Peer Review
Ultrasound imaging versus morphopathology in cardiovascular diseases. Myocardial cell damage
Cardiovascular Ultrasound
2005
3:32
Received: 14 September 2005
Accepted: 06 October 2005
Published: 06 October 2005
Open Peer Review reports
By myocardial cell damage we mean a primary damage of the myocardial cell. In fact, the myocardium includes several other structures as vessels (arteries, veins, lymphatics), nerves, collagen matrix, interstitium, which can be primarily altered with subsequent secondary damage of myocardial cells. In general, both clinicians and pathologists believe in a unique pattern of myocardial necrosis due to ischemia; less frequently to inflammatory processes or rarely to storage diseases. In reality, three types of myocardial cell necrosis can be recognized [1–4] in relation to contraction cycle.
The myocardial cell may irreversibly arrest in: 1. relaxation 2. contraction 3. after progressive failure.
1.
In the first condition the early histologic pattern is characterized by mild eosinophilia, increased length of sarcomeres and elongation of nuclei. This myocellular stretching is due to the action of intraventricular pressure on these elements in flaccid paralysis and visible within 30 minutes. The lesion is pathognomonic for myocardial infarct with its sequelae, namely a polymorphonuclear leukocytic infiltration which starts after 6–8 hours and disappears within 5 days, centripetal removal of necrotic tissue by macrophages and substitution by collagen ending in acellular and avascular, dense, scar (Fig.
1
). No repair by granulation tissue is observed. In humans the infarct is monofocal and its size ranges from less than 10% to more than 50% of the total left ventricular mass. Erroneously named "coagulation necrosis" (coagulation never occurs), is better defined as
infarct
or
ischemic necrosis
. In contrast to the current belief oriented to reduce or avoid expansion of an infarct, death due to a myocardial infarct is not related to its size. About half of these cases have a size less than 20% of the left ventricular mass (Tab.
1
). The same table show that: a) infarct size is not related to severity of coronary atherosclerotic lumen reduction and number of main vessels with sever stenosis; b) long survival (interval from the beginning to death) prevails in large infarcts; c) extensive myocardial fibrosis, as expression of chronic disease, does not correlate with infarct size; and d) the frequency of an occlusive thrombus is significantly higher in the largest infarcts supporting its secondary formation [
5
].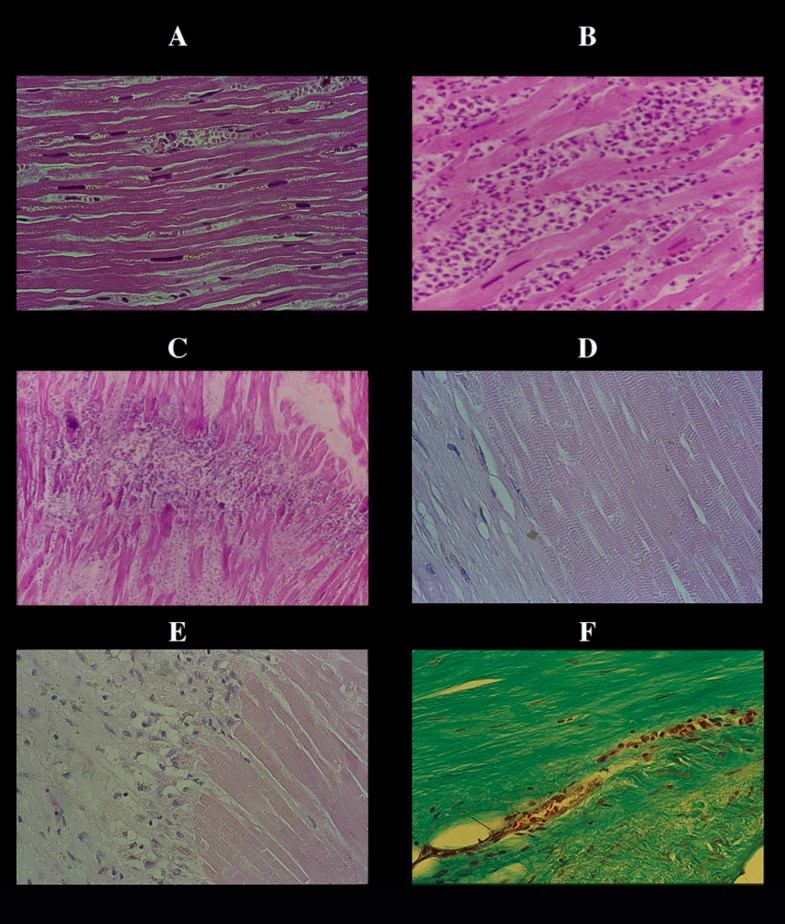 Table 1
Acute myocardial infarct size (% left ventricular mass) versus coronary atherosclerotic obstruction, extensive myocardial fibrosis (> 20% LVM), occlusive thrombus, survival and death in 200 selected cases*
Infarct size %

N. cases

Coronary stenosis %

Extensive fibrosis

Survival days

Occlusive thrombus

<69

≥ 70

1

2

≥ 3**

< 2

3–10

11–30

≤ 20

97

7

90

39

37

14

97

45

26

25

24

> 20

103

10

93

38

34

21

103

26

48

30

58

Total

200

17

183

77

71

35

200

71

74

55

82
2. The opposite pattern is seen when the myocytes stop in contraction or better in hypercontraction (Fig. 2). In less than 10 minutes the hypercontracted myocardial cells break down forming hypereosinophilic transverse bands constituted by hypercontracted, extremely short sarcomeres with highly thickened Z lines. This rhexis of the myofibrillar apparatus ends in coagulation of sarcomeres, till a total, granular disruption. The sarcolemmal membrane is preserved and penetrated by macrophages which digest the necrotic material leaving empty sarcolemmal tubes ("alveolar" pattern) which subsequently collagenized (Fig. 3). These changes suggest that the mechanical contraction of the normal surrounding myocardium causes the break of these rigid elements in tetanic paralysis. This lesion is plurifocal with foci formed by one or few cells to thousands and is the typical necrosis obtained experimentally by catecholamine infusion and present in the myocardium of patients with pheochromocytoma. It must be stressed that in these experimental and human conditions no infarct necrosis is seen. Variously called as, microinfarct, infarct-like, focal myocytolysis, Zenker necrosis, coagulative myocytolysis, myofibrillar degeneration, focal myocarditis and overall contraction band necrosis, the more appropriate term is catecholamine necrosis to indicate cause-effect relationship.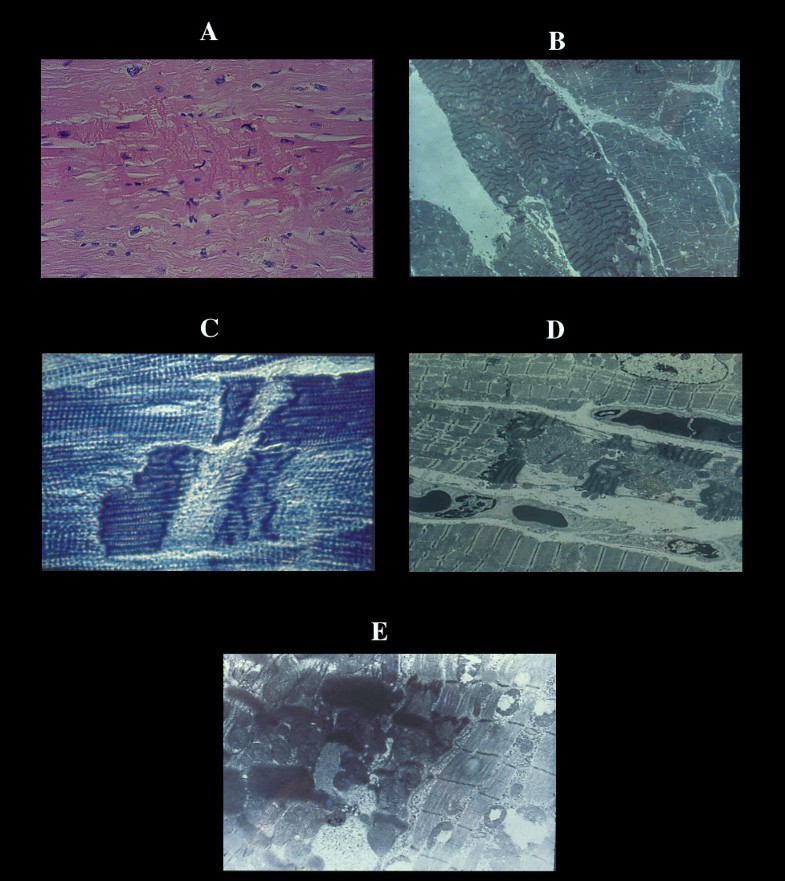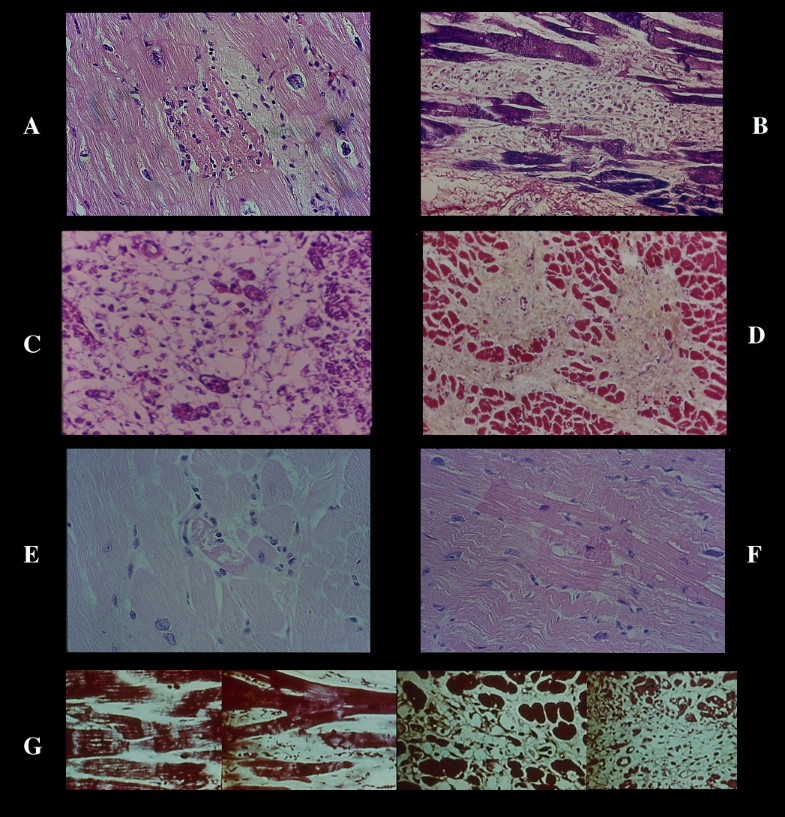 The term "contraction bands" needs a more precise definition. Apart from the changeable "physiological bands" in relation to the normal contraction cycle and beside catecholamine necrosis, other "pathological bands" must be considered:
a.
Paradiscal bands
, part of catecholamine necrosis as a unique band of 10–15 hypercontracted sarcomeres adjacent to an intercalated disc, in an otherwise normal cell. This band does not show any rhexis, macrophagic reaction or other changes and may involve two adjacent myocytes from both sides of the same disc and may appear as a clear or dark band (Fig.
4
). Already visible after 5 minutes from catecholamine infusion, the paradiscal bands correspond to the "zonal lesion" described in experimental hemorrhagic shock and prevented by betablocker. It is unclear if this change is a reversible one since in our experimental and human material a reaction of repair process was never seen. The clear band could represent a rebuilding of few damaged sarcomeres in a normally working myocyte.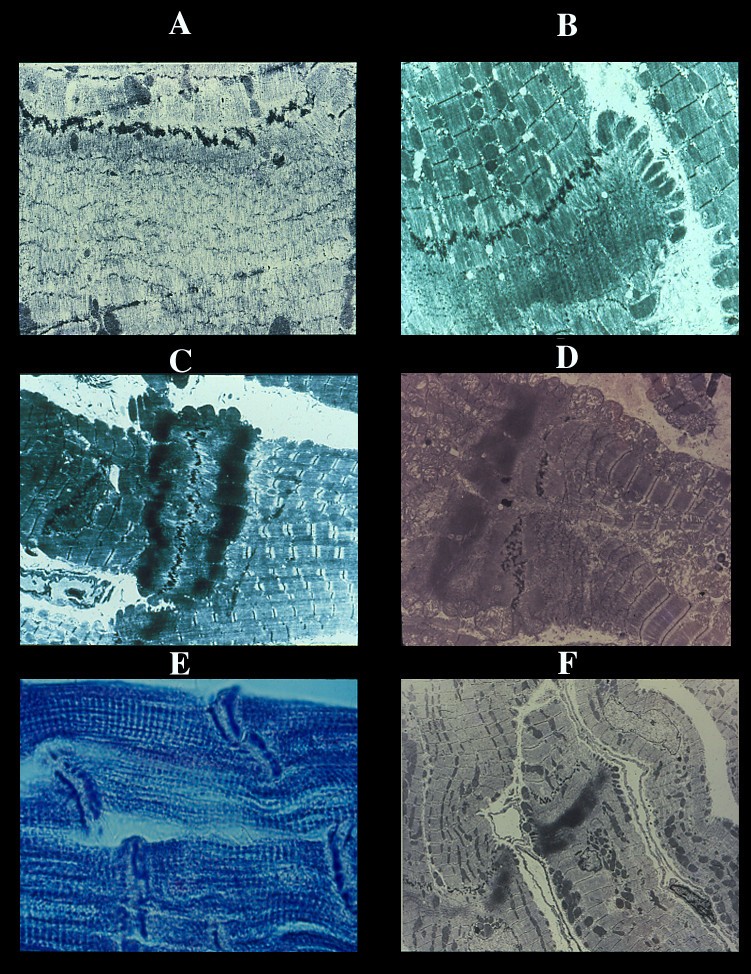 b.
Cutting edge lesion
i.e. a 0.5 millimeter layer of hypercontracted sarcomeres along the cut margin of living myocardium (biopsy, surgical sample, heart excised at transplantation); an artefact not to be confused with catecholamine necrosis (Fig.
5A,B
)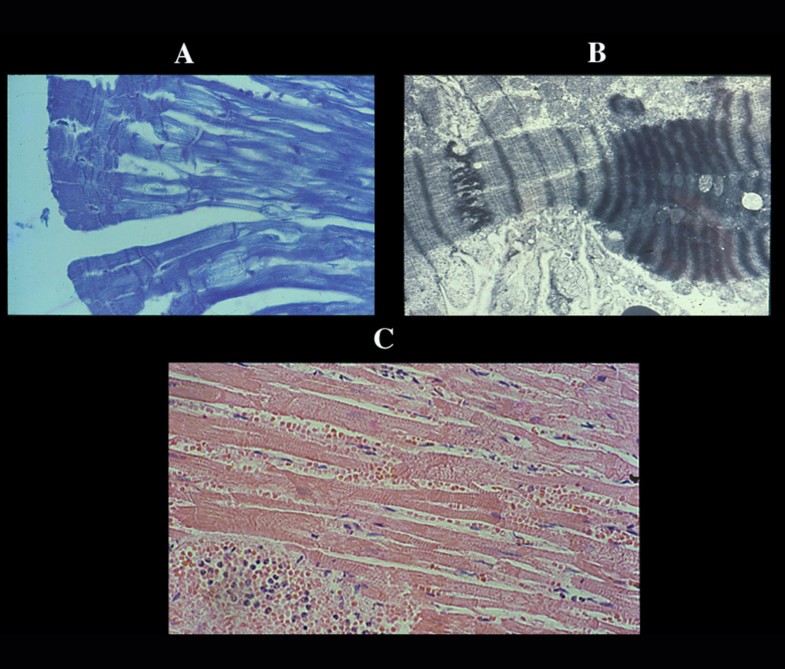 c. Reperfusion injury. From an experimental model of a) temporary coronary occlusion followed by reflow or b) long lasting coronary occlusion, the "wave front phenomenon" has been proposed [6], namely the expansion of a primary infarct established within one hour after occlusion of left circumflex coronary artery and limited to subendocardial layer and posterior papillary muscle [7]. Such an expansion includes the initial infarct with stretched necrotic myocytes, surrounded first by a large zone of "contraction band necrosis" associated with massive hemorrhage and externally by macrophagic reaction and reparative process (Fig. 5C).
This model has been erroneously considered to mimic human infarct. In 200 fatal, acute infarct cases, without any attempt of revascularization, resuscitation and fibronolytic therapy, the ischemic/reperfusion changes were never observed and wavefront expansion was due to nonhemorrhagic catecholamine necrosis, always present both in continuity with the central ischemic necrosis and in normal surrounding myocardium as well as in myocardium not related to the occluded artery. By left circumflex permanent occlusion for 10,18,40 and 60 minutes and temporary occlusion far 10 minutes followed by a 5 minute reperfusion in dog, we tested location and extent (number of foci and necrotic myocytes × 100 mm2) of catecholamine necrosis. The latter was present with a similar extent in ischemic and non ischemic myocardium being independent from amount of flow calculated by radioactive microspheres. Both myonecrosis and frequently associated ventricular fibrillation were prevented by beta-blocker.
For a better understanding of the meaning of catecholamine necrosis in cardiology, its presence and extent were quantified in different conditions (Table
2
). The catecholamine myotoxicity was significantly higher in conditions with an adrenergic overtone than in normal controls dead from accident. In the latters with a short survival some damage likely due to an agonal release of interstitial catecholamines (not seen in instantaneous death) was found.
Table 2
Catecholamine myocardial necrosis – Frequency and extent in different conditions
Source

Sudden/unexpected death

Brain hemorrhage

Transplant heart

AIDS

Congestive heart failure*

Cocaine

Head trauma

Electro cution

Carbon monoxide intoxication

Coronary

Changes

Number cases

25

34

27

46

38

144

26

45

21

26

no infarct+

survival ≤ 1 day >

survival ≤ 1 hour > 1

21

4*

14

13

26

19

Catecholamine necrosis

Present

15

4

34

12

12

39

25

126

11

1

8

1

3

Foci

27 ± 10

29 ± 10

3 ± 1

16 ± 5

37 ± 14

36 ± 9

4 ± 2

2 ± 0.3

4 ± 1

0.5

12 ± 6

8

1 ± 0.5

Myocytes

185 ± 48

1717 ± 698

34 ± 16

26 ± 29

108 ± 134

262 ± 47

13 ± 5

11 ± 2

11 ± 4

35

21 ± 12

46

5 ± 2

Cross band

2

1

8

9

4

14

19

65

11

1

8

1

3

Alveolar

11

2

16

3

6

17

6

25

-

-

-

-

-

Healing

2

1

10

-

2

8

-

36

-

-

-

-

-
The conclusion was that catecholamine necrosis is an important signal of adrenergic stress [3, 4] particularly in in sudden coronary death, (too often interpreted as synonymous of infarct), in which the unique acute lesion found was catecholamine necrosis in about 80% of cases while in 20% a "silent" infarct associated with catecholamine necrosis was detected. These figures are in agreement with clinical studies in resuscitated people [3].
3.
The third damage consists in a disappearance of myofibrils with increasing myocardial cell vacuolization, edema and small mitochondria without any reaction (macrophages, inflammatory elements). This change (
colliquative myocytolysis
) was seen in about 40% of acute infarct cases, around vessels and in subendocardium in myocardial layers preserved by ischemic necrosis (Fig.
6
). Its maximal frequency and extent was in congestive heart failure independently from the underlying disease (Tab.
3
). This damage indicates failure of the myocardium, when other rare causes of vacuolization are excluded.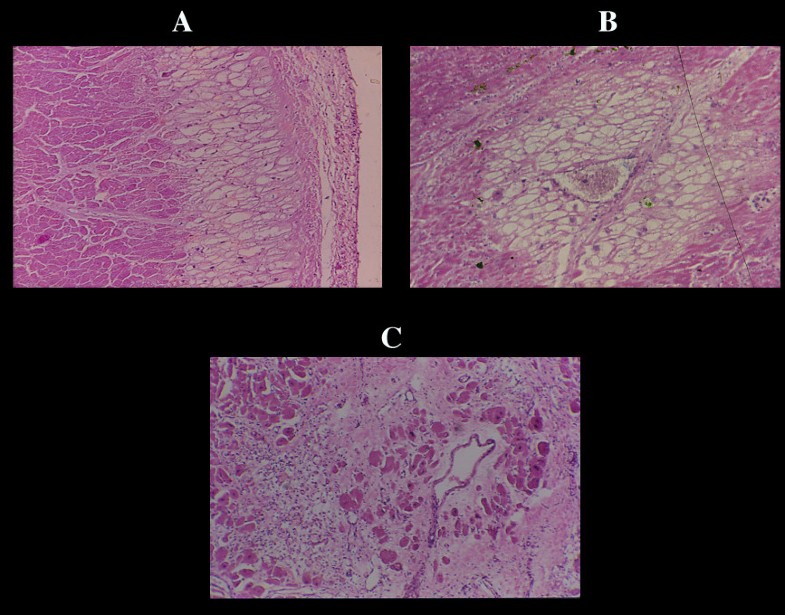 Table 3
Frequency and grade of colliquative myocytolysis in different conditions
Source

Sudden/Unexpected death

Transplanted

Congestive heart failure*

Brain

AIDS

Cocaine

Carbon

Head

Electrocution

Coronary

Chagas

hearts

CHD

DCM

VPT

hemorrhage

monoxide

trauma

Cases

25

34

46

63

63

18

27

38

26

26

45

21

Colliquative myocytolysis grade

0

19

28

33

1

3

1

26

33

26

26

45

21

1

6

6

11

14

28

2

-

3

-

-

-

-

2

-

-

1

39

28

14

1

2

-

-

-

-

3

-

-

1

9

4

1

-

-

-

-

-

-
As a matter of fact, the recognition of different forms of "functional" myonecrosis, which diverge totally in term of structural pathology and molecular/ion biology, denies the assemblage of acute coronary syndromes as a unique etiopathogenetic entity; and helps in interpreting the evolutive phase of each one syndrome as sequence of events and their own causes and mechanisms. For example, a recent consensus [8] included all types of necrosis (coagulation necrosis, contraction band necrosis, apoptosis) measleading our understanding on what a myocardial infarct is
(1)
Institute of Clinical Physiology, National Research Council, Milan and Pisa, Italy
(2)
Cardiology, University School of Medicine and "A. De Gasperis" Foundation,Niguarda Hospital, Milan, Italy
(3)
Cardiovascular Unit, "Campo di Marte" Hospital, Lucca, Italy
© Baroldi et al; licensee BioMed Central Ltd. 2005
This article is published under license to BioMed Central Ltd. This is an Open Access article distributed under the terms of the Creative Commons Attribution License (http://creativecommons.org/licenses/by/2.0), which permits unrestricted use, distribution, and reproduction in any medium, provided the original work is properly cited.