Review

Open Access

Open Peer Review
Ultrasound imaging versus morphopathology in cardiovascular diseases. Coronary collateral circulation and atherosclerotic plaque
Cardiovascular Ultrasound
2005
3:6
Received: 14 February 2005
Accepted: 01 March 2005
Published: 01 March 2005
Open Peer Review reports
In the past 25 years, the concept of a compensatory function of the coronary collaterals (or anastomoses) – i.e. vessels that join different coronary arteries or branches – has been practically cancelled from the mind of cardiologists since cineangiography shows that the onset of coronary heart disease (CHD) occurs independently of their presence. The assumption, therefore, was and is that they have no compensatory meaning [1] and coronary obstruction causes ischemia. A crucial and questionable assumption which disregards solid and recognized pathological data and supports invasive therapies, the diagnostic gold standard being the coronary cineangiography. In many cardiological centers, at the first chest discomfort, the latter is the guide for emergency angioplasty + stent or surgical bypass when a coronary ostruction is found; with the belief that a severe coronary stenosis causes angina pectoris, its occlusion an acute myocardial infarct (AMI) or sudden death (SD) and chronic ischemia explains hibernating myocardium.
By injection under controlled pressure of plastic materials through the aorta, casts of coronary arteries, including coronary ostia, in normal and pathological hearts were obtained. They gave an objective tridimensional view of anatomy, different patterns of coronary distribution and overall collaterals in relation to coronary lumen reduction. The method allowed a histologic control of the myocardium [
2
–
4
]. The casts of normal coronary arteries showed a smooth surface without identations easily identified when even a minor lumen reduction was present. In hearts of normal people dead by accident without pathological findings at autopsy,
homocoronary
(between branches of the same coronary artery) and
intercoronary
(between different coronary arteries) anastomoses were present everywhere joining at any level the intramural branches. Only in two of more than 600 hearts, superficial collaterals between extramural coronary arteries were seen and sampled for histology. The diameter of the innumerable normal collaterals ranged from 20 (maximal penetration of plastic injection) to 350 microns, frequently assuming a corkscrew aspect, possible adaptation to the contraction cycle of the myocardium (Figure
1
). The first conclusion was that arterial intramural system, including the terminal bed, is an anastomotic network, at least from the anatomical viewpoint.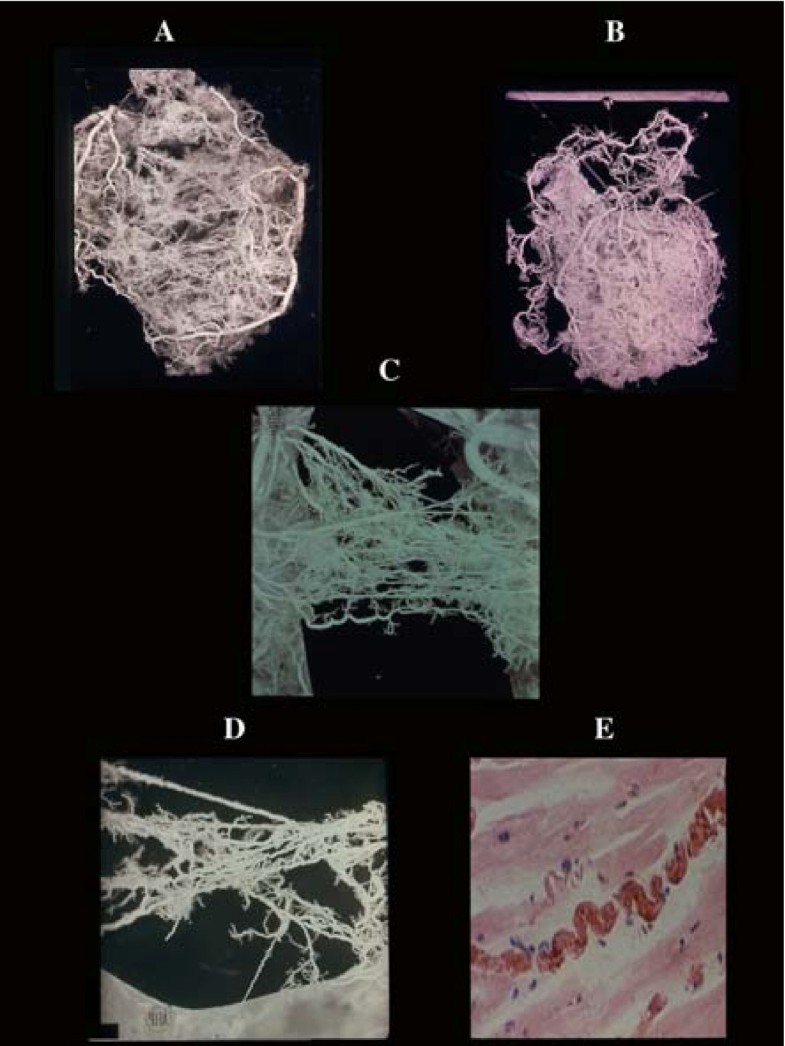 In hypertrophic hearts with normal coronary arteries and in normal hearts of patients with chronic hypoxia, e.g. anemia, collateral diameter and length were increased in the whole intramural system (500 microns; Figure
2
). The more impressive change was seen in presence of coronary stenosis greater than 70% with a diameter and length exceeding 1000 microns and several centimeters respectively (Figure
3
). The other peculiarity was that collateral enlargement was strictly related to a stenosis filling distal tract of the obstructed vessel (
satellite anastomoses
); when more than one severe stenoses exist each one had its own satellite collaterals. However, an identical obstruction located at the same level of an artery might show relatively few highly enlarged collaterals (the only ones visible by cineangiography), or numerous relatively small collaterals (Figure
4
). A finding possibly due to a redistribution of blood flow consequent to newly formed severe stenoses or an infarct. In the latter condition, all vessels within the necrotic tissue disappear (
avascular area
seen in plastic casts; Figure
5
) and the surviving collaterals at periphery will further enlarge since the pressure gradient distal to the coronary obstruction persists.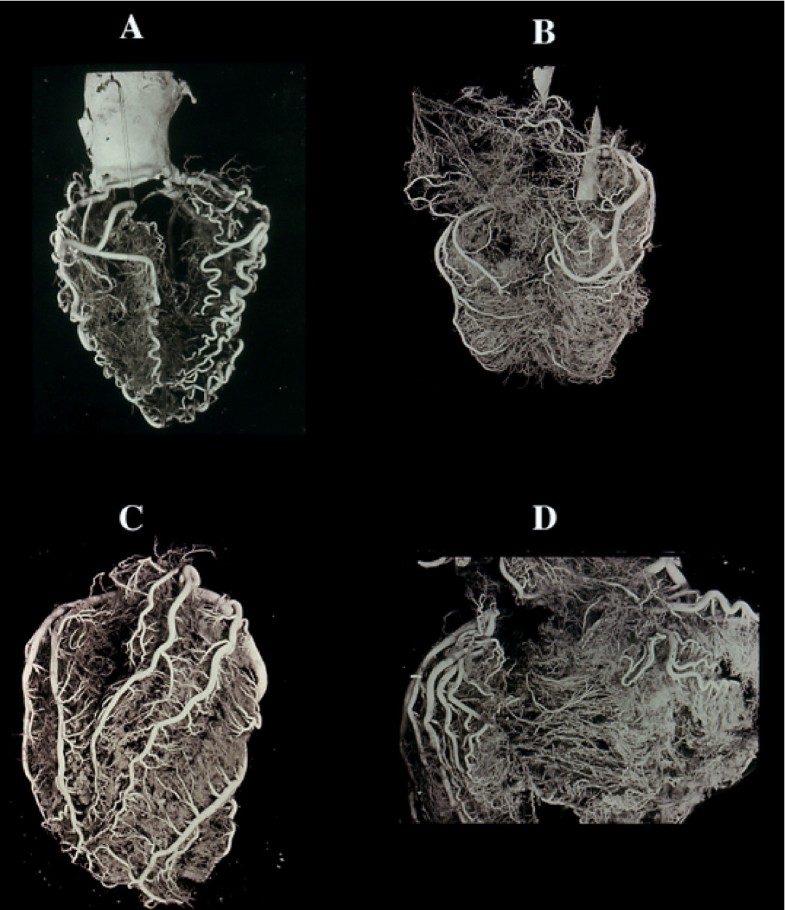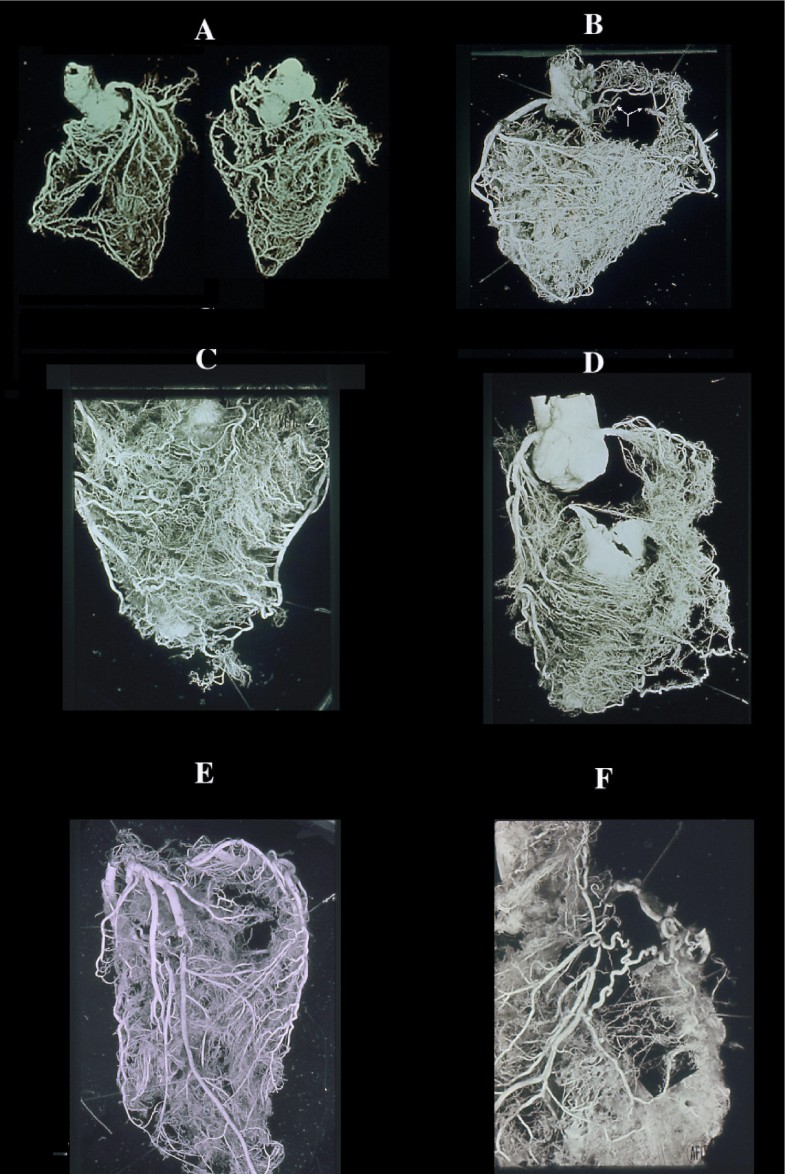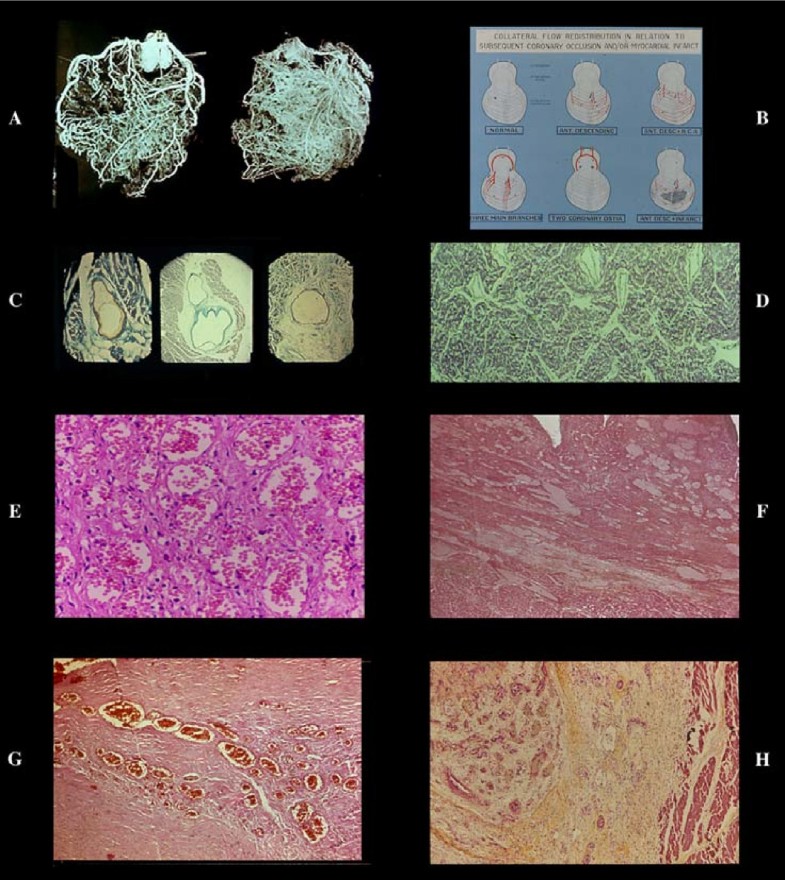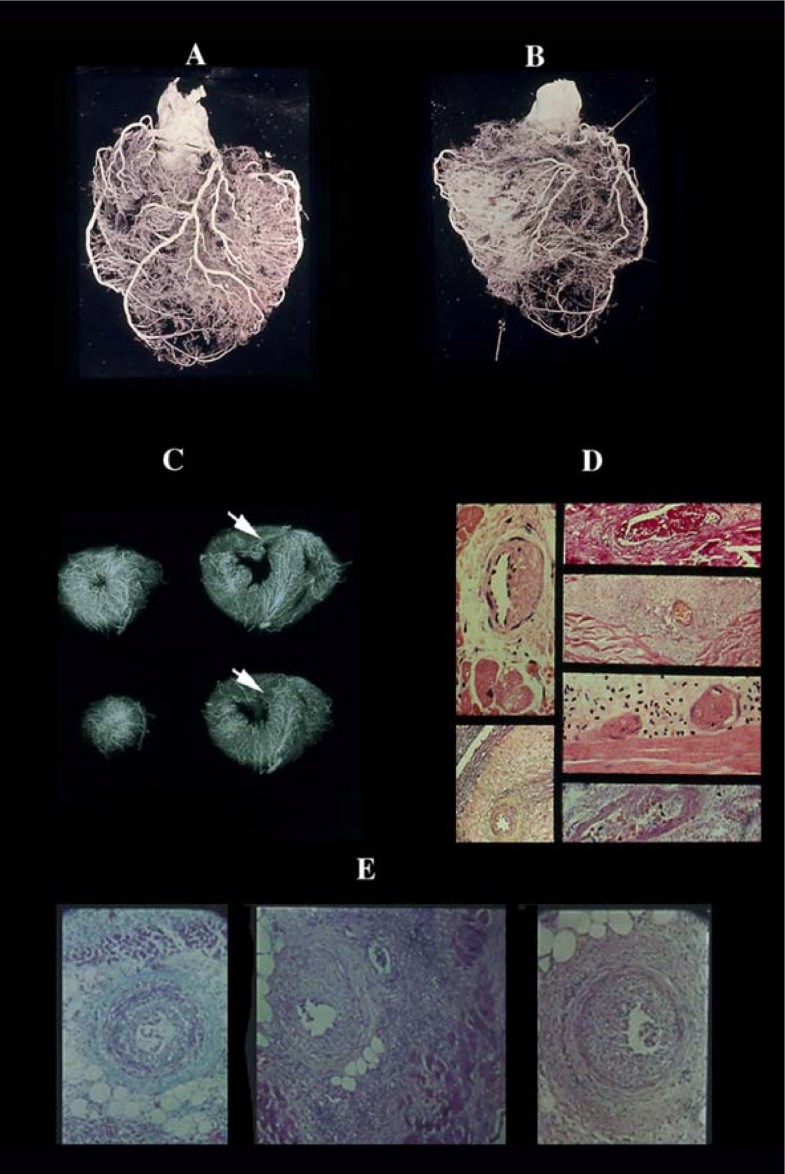 Another satellite collateral system is annexed around and within the atheroclerotic plaque. Plastic casts and histological serial sections showed an extensive vascularization limited only at plaque level and formed by giant adventitial capillary-like vessels filled by intracoronary radiopaque injected material, connecting secondary branches proximal and distal to the stenosis as well as new vessels formed within the atherosclerotic intima i.e. arterioles, with a well developed tunica media, related to angiomatous plexuses which open in the residual lumen (Figure
6
). This
plaque satellite system
may explain why by cineangiography the coronary tract distal to stenosis is immediately filled while in its absence a delay or flow reduction should be expected.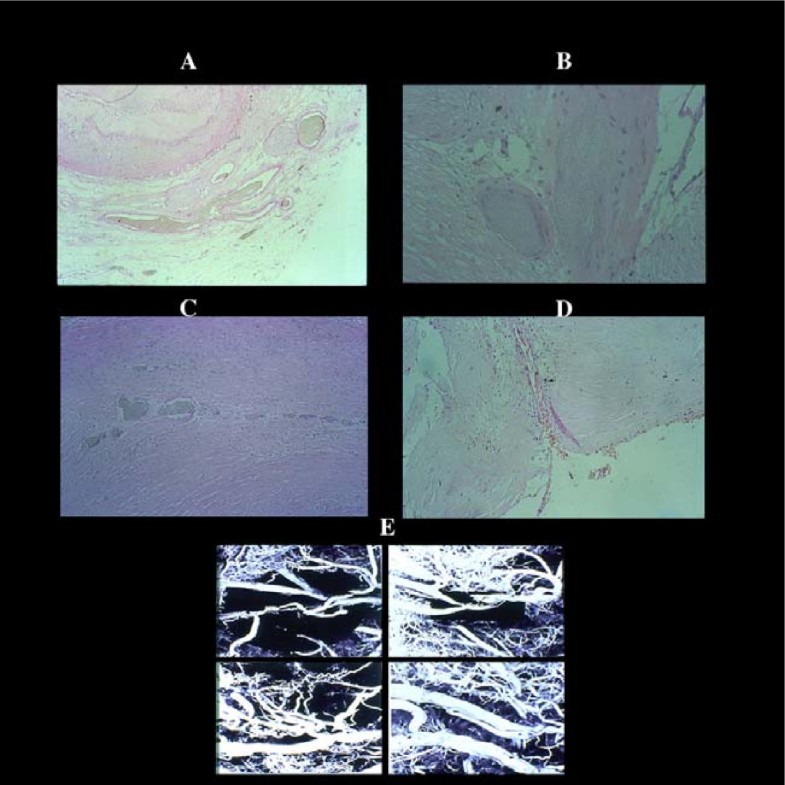 Both homo-intercoronary and plaque collateral systems are anatomical structures capable to adapt in particular pathological conditions. The question is whether or not they are able to prevent ischemia and compensate an occlusion which by cineangiography appears as a "cut off" of a vessel without imaging of its distal tract. It must be stressed that in postmortem casts with coronary occlusion the latter was always injected through collaterals.
In 87% of AMI patients, within four hours from clinical onset, a cineangiographic occlusion was observed and in 88% of cases undergone emergency bypass surgery, a "layered thrombus" was recovered "proximal to stenosis" [5]; a thrombus due to plaque rupture [6–8] causing the infarct or sudden death.
In discussing this dogma the first need is to review the function of the collaterals.
(1)
Institute of Clinical Physiology, National Research Council, Milan and Pisa, Italy
(2)
University School of Medicine and "A. De Gasperis" Foundation, Niguarda Hospital, Milan, Italy
(3)
Cardiovascular Unit, "Campo di Marte" Hospital, Lucca, Italy
© Baroldi et al; licensee BioMed Central Ltd. 2005
This article is published under license to BioMed Central Ltd. This is an Open Access article distributed under the terms of the Creative Commons Attribution License (http://creativecommons.org/licenses/by/2.0), which permits unrestricted use, distribution, and reproduction in any medium, provided the original work is properly cited.