How I do it article
Open Access
Open Peer Review
This article has Open Peer Review reports available.
Echocardiographic assessment of ischemic mitral regurgitation
Cardiovascular Ultrasound
2014
12:46
Received: 13 June 2014
Accepted: 10 October 2014
Published: 21 November 2014
Abstract
Ischemic mitral regurgitation is an important consequence of LV remodeling after myocardial infarction. Echocardiographic diagnosis and assessment of ischemic mitral regurgitation are critical to gauge its adverse effects on prognosis and to attempt to tailor rational treatment strategy. There is no single approach to the echocardiographic assessment of ischemic mitral regurgitation: standard echocardiographic measures of mitral regurgitation severity and of LV dysfunction are complemented by assessments of displacement of the papillary muscles and quantitative indices of mitral valve deformation. Development of novel approaches to understand mitral valve geometry by echocardiography may improve understanding of the mechanism, clinical trajectory, and reparability of ischemic mitral regurgitation.
Keywords
Chronic Ischemic mitral regurgitationEchocardiographyVentricular remodellingPapillary muscle displacementMitral valve tetheringMitral valve tentingTethering anglesTenting heightTenting areaMitral annulus dilatationMyocardial infarction
Background
The mitral valve has a specific geometry designed to maintain leaflet coaptation and thereby prevent systolic regurgitation into the left atrium (LA). Mitral valve function must be conceptualized in terms of a holistic relationship with supporting ventricular structures, and thus derangements of any part of the mitral valve apparatus – including the mitral valve leaflets, but also the annulus, chordae tendinae, papillary muscles (PM), and left ventricle (LV) – can disrupt valvular coaptation and cause symptoms, physical examination findings, and echocardiographic manifestations of valvular incompetence. The concept of ischemic mitral regurgitation must be clarified in terms of possible mitral regurgitation (MR) mechanisms as well as by acuity of the insult causing MR (see Table
1
). In acute coronary syndromes and early in the course of myocardial infarction, MR may occur due to PM ischemia or rupture due to infarction, ischemic LV dilation, and/or increased LV diastolic pressures.
Table 1
Classification of mitral regurgitation by mechanism and acuity
Primary ("Organic")

Secondary ("Functional")

Acute

Papillary muscle ischemia

Acute ischemic LV dilatation

Ruptured papillary muscle (trauma, infarction)

Flail mitral valve leaflet

Ruptured chordae tendinae

Endocarditis (leaflet perforation)

Chronic

Flail mitral valve leaflet

Chronic ischemic mitral regurgitation (CIMR)

Mitral valve prolapse

Non-ischemic LV dilatation (failure of leaflets to coapt)

Ruptured chordae tendinae

Non-ischemic LV systolic dysfunction

Degeneration (myxomatous, endocarditis, calcification)

Hypertrophic cardiomyopathy

Rheumatic

Right ventricular pacing

Congenital

Aortic insufficiency [1]
The most common clinical situation encountered for MR arising post infarct, e.g. chronic ischemic mitral regurgitation (CIMR, also called "ischemic chronic secondary MR" by new guidelines [2]), is MR due to geometric changes of the LV and distortion of normal spatial relationships of the mitral apparatus, all secondary to remodeling from ischemic heart disease. CIMR is characterized mechanistically by incomplete mitral leaflet closure, namely displacement of the leaflet coaptation apically within the LV cavity [3]. Although a spectrum of anatomic abnormalities of both LV and PMs exists, evidence points to a predominant role of "tethering" as the final common pathway in inducing CIMR. Post-infarct, outward displacement of PMs leads to stretching of the chordae tendinae and increased tethering forces on the mitral leaflets, which causes the apical coaptation and restricted closure. Annular dilatation may also contribute by stretching leaflets and causing incomplete closure. Accordingly, CIMR is classified as functional MR, or type IIIb in the Carpentier classification. Practitioners should also be mindful not to classify as CIMR those patients with mitral regurgitation and comorbid ischemic heart disease if there is any intrinsic mitral valve apparatus abnormality and/or there has not been a history of myocardial infarction.
This article will focus specifically on the echocardiographic characteristics of CIMR – given its importance in adverse prognosis (e.g. heart failure and mortality [4, 5]) and impact on evaluating treatment decisions including revascularization, annuloplasty, and cardiac resynchronization therapy. Echocardiography is the only reliable method available for clinical evaluation of CIMR because the physical examination reveals no audible murmurs in about one-third of CIMR patients with moderate or severe MR and half with mild MR [4].
Overview of echocardiographic assessment of CIMR
When assessing MR by echocardiography, the key inquiries are severity, delineation of pathology in the components of the mitral valve apparatus, overall mechanism of MR, and, based on the probable mechanism, consideration of treatment strategies to reduce MR. As applied to CIMR, the echocardiographer should:
1)

confirm underlying chronic ischemic heart disease,

2)

gauge the severity of MR,

3)

exclude intrinsic pathology in the leaflets and chordae,

4)

establish CIMR as the most likely etiology by assessing LV and PM displacement, and

5)

characterize the phenotype of CIMR as either symmetric or asymmetric.
Echocardiographic assessment of CIMR should also include assessment of global and regional LV function, LV ejection fraction, LV dimensions, LV wall motion abnormalities, and pulmonary hypertension [2].
The prevalence of post-infarct MR has been reported to be as high as 50% in patient populations studied by echocardiography within 7 to 30 days post infarct [4, 5]. Thus echocardiography may be used to confirm sequelae of ischemic heart disease such myocardial scarring, wall thinning, and wall motion abnormalities. However, it is incumbent on the cardiologist and echocardiographer to be familiar with the patient's history and other available diagnostic results including electrocardiography, nuclear perfusion tests, and angiography.
Concomitant with measuring severity of MR, one of the initial jobs of the echocardiographer is to ensure there is no other intrinsic pathology of the leaflets, chordae, and PMs; identifying such a finding could indicate the mechanism may not be CIMR. In general the pathologic processes underlying CIMR reflect ventricular and not leaflet pathology: adverse local and global remodelling of the LV changes the geometry of the PMs and the resultant dynamic vector forces exerted on the chordae-leaflet system. During systole, mitral leaflet closing is mediated by the interplay of closing forces [
6
] exerted by LV intracavitary systolic pressure on the ventricular surface of the mitral leaflets versus tethering forces, which restrict leaflet motion in systole by pulling apically away from the mitral annular coaptation plane. Tethering forces are applied by the LV, PMs, and annulus along apical, posterior, and lateral vectors [
7
] (Figure
1
) and cause incomplete systolic mitral leaflet closure [
3
]. Global LV dilatation will increase the distance from PM to the leaflet and cause tethering; similarly, a local area of infarction that distorts and outwardly displaces the myocardium underlying PM produces similar malposition. In part because of the more common single vessel supply of the posteromedial PM [
8
], tethering and resultant CIMR are more common with inferior infarcts than with anterior infarct [
9
]. In addition, displacement of the anterolateral PM is more restricted due to the structural buttress afforded by the interventricular septum, and also because infarcts in the left coronary artery territory will more commonly produce apical dilatation as opposed to dilatation of territory subtended by the anterolateral PM.

The vector sum of forces applied to the mitral leaflet in CIMR generates an abnormal, ventricularly displaced coaptation shape of the mitral leaflets referred to as "tenting". Two echocardiographic phenotypes of tenting in CIMR have been identified [
7
]: asymmetric and symmetric (Figure
2
), which depends on if the posterior or both leaflets are affected, which itself depends on the underlying LV and PM derangements. For example, global LV dilatation with radially outward and apical displacement of both PMs causes symmetric tenting of both leaflets. Inferoposterior infarction [
10
] with local adverse remodelling predominantly affects the posteromedial PM and restricts the posterior leaflet motion, causing a relative overriding of the coaptation zone by the non-tethered leaflet ("pseudoprolapse"). The coaptation zone, although more apically displaced in symmetric tethering, is less geometrically deformed than in asymmetric tethering. Regurgitant severity of CIMR is strongly affected by tethering phenotype, with higher degrees and more eccentric jets observed in asymmetric tethering (Figure
3
). Symmetric tethering, despite more common association with worse LV dysfunction and dilatation, more frequently results in smaller non-eccentric central jets of MR. The characteristics of these phenotypes are summarized in Table
2
.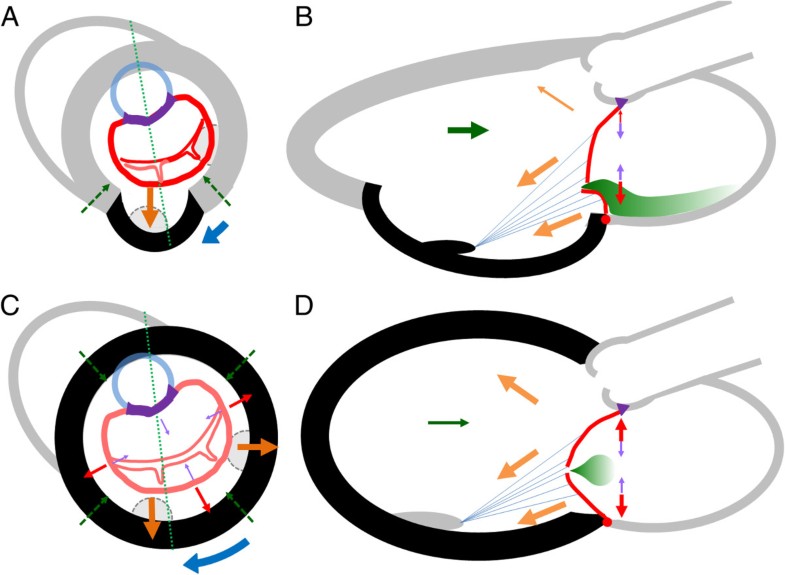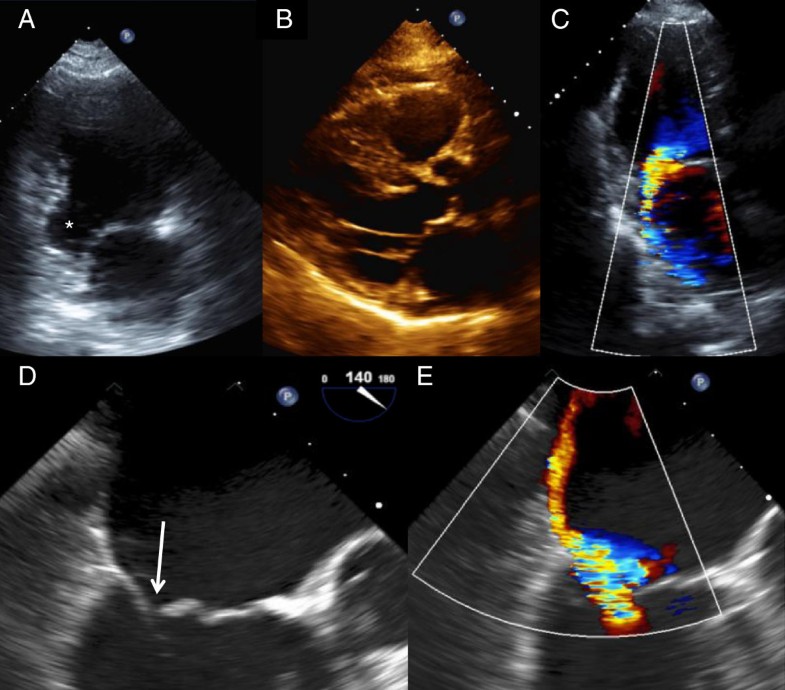 Table 2
Characteristics of symmetric versus asymmetric CIMR tethering phenotypes
| | Symmetric CIMR | Asymmetric CIMR |
| --- | --- | --- |
| Major net tethering vectors | Apical | Posterior > apical |
| Tethered mitral leaflets | Anterior and posterior | Posterior |
| Associated myocardial infarct pattern (and vessels) | Anterior (left anterior descending/multiple coronary arteries) | Inferoposterior (right coronary > circumflex) |
| Archetype pattern of LV dysfunction | Global LV dilatation and wall motion abnormality | Inferoposterior wall motion abnormality and dilatation |
| Mitral valve coaptation zone displacement | Apically | Posteriorly; pseudoprolapse of anterior leaflet over posterior leaflet |
| Tethering angles | Anterior ≈ posterior | Posterior > anterior |
| Tenting volume | Higher | Lower |
| MR origin and direction | Central, non-eccentric | Posterior, posteriorly eccentric |
| Annular dilatation | Greater | Lesser |
| Annular height | Greater loss of non-planarity ("flattened") | Less loss of height |
| MR relative severity | Less severe | More severe |
| Severity correlates best with | LV dilatation and sphericity | Degree of mitral valve deformation (greater tethering angles, more marked derangement of coaptation zone) |
In the following sections, transthoracic echocardiographic techniques will be discussed in tandem with reference to the underlying plausible mechanisms of CIMR and other etiologic contributors such as mitral annular dilatation.
Assessment of CIMR post-therapy
Echocardiography post-annuloplasty
The mechanisms responsible for recurrence of CIMR after surgical revascularization and restrictive annuloplasty remain elusive. In some instances, the mechanism is ongoing adverse LV dilatation and spherical remodelling that worsens tethering [37, 38]. In a single center retrospective population of predominantly ischemic MR, preoperative LV end diastolic diameter indexed to body surface area with a cut-off of >3.5 cm/m2 predicted recurrence of MR [39]. A greater degree of anterior mitral leaflet tethering angle α, specifically >36.9° (considered the moderate-to-severe or severe quintiles of anterior tethering), regardless of LV dilatation or geometry, conferred a multivariate OR of 3.6 for recurrent MR at 44.7 month follow-up of CIMR patients who underwent surgical revascularization and undersized ring annuloplasty [40]. This is in accord previous results showing α ≥39.5° conferred OR of 3.1 for recurrent MR in a similar population of patients who underwent surgical revascularization and undersized ring annuloplasty [41]. There was also a strong association (OR >4) for lack of LV reverse remodeling post-operatively. The results of this line of analysis underscores that preoperative echocardiography and tethering geometry does predict postoperative outcomes including MR recurrence, LV geometry, and outcome, and thus these should be part of preoperative assessment. Preoperative diastology may also impact postoperative outcome, with transmitral deceleration time <140 ms predictive of MR recurrence, and deceleration time and pulmonary vein systolic:diastolic flow ratio predictive of mortality [42].
Because annuloplasty shifts the coaptation zone more anteriorly, the posteromedial PM location can be further distorted and lie outside the annulus ring; the tethering effect on the posterior leaflet makes it less likely to coapt at the anteriorly shifted coaptation zone [43]. In patients without continued global LV dilatation, recurrent MR is highlighted by adverse anterior leaflet tethering due to bending, as measured by anterior leaflet coaptation area [38].
Additional imaging techniques
Conclusion
CIMR is the post-infarct pathophysiologic result of incomplete mitral valve coaptation due to global or local geometric deformity of the LV that generates apical displacement of normal mitral valve leaflets. Echocardiographic techniques can quantitate CIMR primarily by indices of leaflet tethering and tenting, effectively integrating the effects of multiple disparate forces. Because CIMR may beget CIMR through mechanisms of increased volume loading on the LV and annular dilatation, precise echocardiographic diagnosis and followup are essential. Improved echocardiographic assessments will augment our understanding of the etiologies CIMR, and translate to appropriate, mechanistically-targeted therapy. The typical therapy of CIMR has been restrictive mitral annuloplasty, but reshaping the annulus cannot alone solve the problem when the ultimate etiologic lesion is in ventricular geometry. This dilemma is appreciated in practice as it is not proven that current treatments of CIMR either boosts survival, helps LV reverse remodeling, or improves symptoms. Better definitions and improved phenotyping of CIMR will permit robust randomized controlled trials of surgical therapies [54], as well as refinements in percutaneous device therapies such as CRT (which reduces tethering and modifies timing of LV systolic forces) [55] and injectable polymers to reshape the posteromedial PM [56], novel surgical approaches (e.g. targeted surgical approaches such as LVplasty, annuloplasty and chordal cutting depending on the patient's specific CIMR mechanism), and experimental devices to improve PM geometry [57].
Authors' information
JH is an associate professor of medicine at Harvard Medical School and the associate director of the echocardiography laboratory at Massachusetts General Hospital. She has participated on several writing group committees for American Society of Echocardiography guidelines, including those on valvular disease.
Abbreviations
2D:

Two-dimensional
3D:

Three-dimensional
CIMR:

Chronic ischemic mitral regurgitation
EROA:

Effective regurgitant orifice area
GDMT:

Guideline directed medical therapy
LA:

Left atrium
LV:

Left ventricle
mL:

Milliliters
MR:

Mitral regurgitation
MV:

Mitral valve
OR:

Odds ratio
PISA:

Proximal isovelocity surface area
PM:

Papillary muscle
RVol:

Regurgitant volume
TEE:

Transesophageal echocardiography
TTE:

Transthoracic echocardiography
TVI:

Time velocity integral
VC:

Vena contracta
WMA:

Wall motion abnormalities.
Declarations
Acknowledgements
This work was supported in part by grant NIH/NHLBI R01 HL092101 (JH).
Authors' Affiliations
(1)
Echocardiography Laboratory, Cardiology Division and Division of Critical Care Medicine, Massachusetts General Hospital, Boston, USA
(2)
Echocardiography Laboratory, Cardiology Division, Massachusetts General Hospital, Boston, USA
Copyright
© Dudzinski and Hung; licensee BioMed Central Ltd. 2014
This article is published under license to BioMed Central Ltd. This is an Open Access article distributed under the terms of the Creative Commons Attribution License (http://creativecommons.org/licenses/by/4.0), which permits unrestricted use, distribution, and reproduction in any medium, provided the original work is properly credited. The Creative Commons Public Domain Dedication waiver (http://creativecommons.org/publicdomain/zero/1.0/) applies to the data made available in this article, unless otherwise stated.