Review
Open Access
Open Peer Review
This article has Open Peer Review reports available.
Gene therapy for cardiovascular disease mediated by ultrasound and microbubbles
Cardiovascular Ultrasound
2013
11:11
Received: 23 March 2013
Accepted: 9 April 2013
Published: 17 April 2013
Abstract
Gene therapy provides an efficient approach for treatment of cardiovascular disease. To realize the therapeutic effect, both efficient delivery to the target cells and sustained expression of transgenes are required. Ultrasound targeted microbubble destruction (UTMD) technique has become a potential strategy for target-specific gene and drug delivery. When gene-loaded microbubble is injected, the ultrasound-mediated microbubble destruction may spew the transported gene to the targeted cells or organ. Meanwhile, high amplitude oscillations of microbubbles increase the permeability of capillary and cell membrane, facilitating uptake of the released gene into tissue and cell. Therefore, efficiency of gene therapy can be significantly improved. To date, UTMD has been successfully investigated in many diseases, and it has achieved outstanding progress in the last two decades. Herein, we discuss the current status of gene therapy of cardiovascular diseases, and reviewed the progress of the delivery of genes to cardiovascular system by UTMD.
Keywords
UltrasoundMicrobubbleGene therapyCardiovascular
With the rapid development of economy, urbanization and changing lifestyles, the number of people with cardiovascular diseases is increasing globally [1]. Even if recent progress have been made in diagnosis and remedy, cardiovascular disease remains the leading cause of mortality in many countries [2]. Therefore, there is a strong impetus for more effective treatment and prevention. As increasing insight into the molecular mechanisms of cardiovascular diseases, gene therapy has been proposed as a promising therapeutic tool for the treatment of cardiovascular diseases [3, 4].
To realize the therapeutic effect, both efficient delivery to the target cells and sustained expression of transgenes are required. In recent years, a large number of proof-of-principle studies have confirmed that ultrasound targeted microbubble destruction (UTMD) could enhance transfection efficiency of naked plasmid DNA by several orders of magnitude [5–7]. Therefore, it is considered as a promising strategy for gene therapy. Herein, we discuss the current status of gene therapy of cardiovascular diseases and review the studies of gene therapy of cardiovascular diseases mediated by UTMD.
Barriers of gene therapy for cardiovascular diseases
To realize efficient delivery of therapeutic genes to the cardiovascular system, a series of barriers related to almost all aspects of cellular biology have to be overcome. Firstly, the gene vectors need to pass through the endothelial barriers in capillary walls when systemically injected. Meanwhile, the plasmid faces a threat of being degraded rapidly by the immune system or DNAse in serum before transfection. On the other hand, viral gene vectors need to avoid the immunoreaction in circulation and transduction of non-target organs, mainly liver and spleen. Secondly, as gene vectors and plasma membrane are negatively charged, the gene vectors have to diffuse through myocardial membrane then bind to cell surface but to be repelled from it. Thirdly, the plasmid needs to avoid being entrapped into lysosome or the endosome, where it will be degraded. Fourthly, the gene vector has to penetrate the nuclear membrane to achieve the goal of gene therapy. Nevertheless, appropriate technologies can be used to make the gene vector itself complete target to the interested area, such as injection catheter, surgical operation or UTMD [8, 9]. Also directly injection of the vector into myocardium will lead to high local concentration of the vector. Optimized surface of the vector can realize directional transduction of the vector into the cell and karyon.
Current status of gene therapy of cardiovascular disease
Nabel et al.[10] were the first to demonstrate gene therapy in cardiovascular system in 1989. Since then, gene therapeutic trials for cardiovascular diseases have been performed all over the world. However, advances in the area of gene therapy for cardiovascular disease are not well satisfied because of the lack of gene delivery systems to transfer therapeutic gene to specific target to provide an adequate dose of a therapeutic gene [2]. So far, the gene delivery systems are mainly divided into two kinds, namely, viral systems and non-viral systems [11].
Viral systems derived from adeno-associated virus (AAV) [12], retrovirus [13], lentivirus [14] and adenovirus [15] are one of the successful gene delivery systems, which are used in the majority of current gene therapy researches and clinical trials due to their benefits of highly efficient delivery into cells with sustained expression. Recently, Prunier et al.[16] showed that delivering adenovirus expressing sarcoplasmic reticulum Ca2+ ATPase (SERCA2a) into coronary arteries could prevent ventricular arrhythmias in a ischemia - reperfusion model. Suckau et al.[17] also employed adenoviral and AAV vectors to obtain high RNAi activity. They showed that an adenoviral short hairpin RNA vector could silence phospholamban in cardiomyocytes and improved hemodynamics in heart-failure. Meanwhile, they designed a dimeric cardiotropic AAV vector to intravenously deliver RNA molecule to the heart for simplified long-term therapy. However, viral gene therapy has been subjected to criticism due to their potential for uncontrollable and insertional mutagenesis [18]. Moreover, viral vectors will evoke undesired immune response by the virtue of systemic administration, which limits repetitive regiments [19, 20]. Also the transfection efficiency of viral vectors occur with a relatively low efficiency and organ specificity, which restricts its therapeutic efficacy [21, 22].
Nonviral systems is consist of chemical methods (such as cationic liposome, nanoparticle and polymers) and physical methods (include gene gun, electroporation, particle bombardment, ultrasound utilization, and magnetofection) [23, 24]. The advantages of nonviral system include availability, cost-effectiveness, and less induction of immune system and no limitation in size of transgenic DNA compared with viral system, which have made them an attractive candidate for gene delivery. Among them, the simplest and most widely nonviral gene vector is naked DNA. However, its transfection efficiency is limited due to the rapid degradation by DNAse and the clearance by the mononuclear phagocyte system in the systemic circulation. Increasing target specificity to diseased tissue can reduce off-target bioeffects and enhance the gene transfection efficiency. Recently, Ko et al. [25] conjugated cell-penetrating transactivating transcriptional activator (TAT) peptide (TATp) and/or monoclonal anti-myosin monoclonal antibody 2G4 (mAb 2G4) which target to cardiac myosin to liposomes for targeted gene delivery to ischemic myocardium. The result showed that in vitro transfection was enhanced by the presence of TATp and was further enhanced by the additional modification with mAb 2G4 antibody. And the transfection efficiency of in vivo experiments was significantly enhanced in the ischemic zone. The main disadvantage of nonviral systems is their low transfection because of the inability of vectors to overcome biological barriers to enter cells [26]. In other hand, physical methods recently have been developed as a feasible nonviral method. However, most of them are mainly based upon invasion procedures, their inherent risks that may outweigh their benefits, which makes them inappropriate for cardiac gene transfer. Durieux et al. [27] conducted a study to investigates the factors regarding gene electrotransfer associated muscle damage, which confirmed that gene electrotransfer associated muscle damage was related to the intracellular presence and expression of plasmid DNA. Besides, the gene expression is confined to the injection site. Therefore, it is necessary to develop an effective and specific gene delivery system suitable for human body [28].
UTMD has been widely proved as a new strategy of improving the delivery of drugs or genes [29, 30]. Due to its advantages of high safety profile, repetitive applicability, cost-effectiveness and the capability to enhance the permeability of plasma membrane to macromolecules by its bioeffects, it is considered as a feasible tool for gene delivery [31–35]. Chen et al.[36] have proved that UTMD significantly increased the transfection rate of short hairpin RNA (shRNA) vectors in vitro and in vivo, which was equal to that of some cancer cell lines delivered by polyethylenimine (PEI). Qiu et al.[37] have proved that enhanced green fluorescent protein (EGFP) plasmids could be delivered effectively into rabbit Achilles tendons by UTMD, causing no obvious injury.
Mechanisms of UTMD in gene therapy
UTMD is an immense potential target-specific gene delivery tool. Its ability to elevate the gene transfection efficiency in various studies in vitro and in vivo has been confirmed [
38
–
40
], thus being consider as a promising gene carrier approach for gene therapy. Microbubbles(MBs) of UTMD, which may consist of lipids, albumin, saccharide, biocompatible polymers and other materials [
41
–
43
] are traditionally used as ultrasound contrast agents due to their physical property of reflecting ultrasound. Microbubble as cavitation nucleus could expand and contract under the effect of ultrasound, and even be disrupted when the acoustic pressure reaches a much higher level, which could cause a series of biological effects. The mechanism of transferring gene into cells effectively through UTMD is based on the specific response of the microbubbles upon exposure to ultrasound, namely sonoporation. Microbubbles may oscillate when exposed to ultrasound, and then these oscillating microbubbles may rupture. So, the gene therapy vector incorporated with microbubbles can be released with high local concentrations at the site of interest. Meanwhile, the destruction of MBs may transiently induce transient holes in membranes in consequence to local shear forces exerted on membranes by fluid flow ('micro streaming') around oscillating bubbles, local shock waves (which produce large pressure gradients across a cell), or cavitation microjets, therefore, facilitating drug or gene into cells [
44
,
45
], and augmenting the transfection efficiency (Figure
1
). The advantages of UTMD techniques are as follows: (1) low toxicity, (2) low immunogenicity of the vectors, (3) low invasiveness (e.g., the vector and MB can be intravenously injected), (4) great potential for repetitive application, and (5) organs can be targeted with high specificity. Since UTMD can not only improve the efficiency, but also avoid the immunogenicity, it has been regarded as a new choice for gene therapy.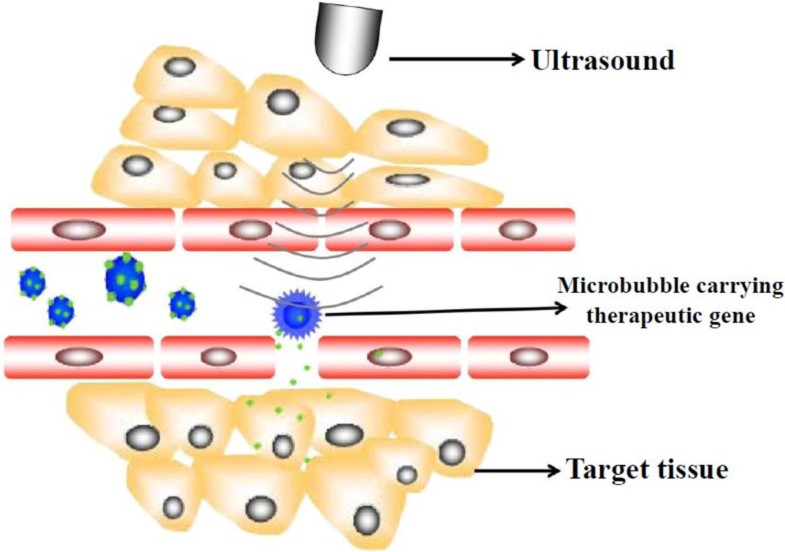 Gene therapy mediated by UTMD in cardiovascular disease
Due to its advantages of high safety, cost effectiveness, repetitive applicability, and the possibility to increase the permeability of microvessel and plasma membrane to macromolecules by its bioeffects, ultrasound and microbubble has been considered as a powerful tool in gene therapy. In recent years, many studies in vitro and in vivo have confirmed that ultrasound and microbubble could significantly elevate the gene transfection efficiency. It is emerging as a potential strategy for treatment of cardiovascular diseases [11].
Conclusions
Increasing evidences prove that UTMD is a promising strategy to improve delivery efficiency, thus emerges as a method with great promise for target-specific gene delivery. A variety of experiments have demonstrated that the combination of UTMD and viral and non-viral vectors in gene delivery could not only enhance the efficiency of the viral vector, but also avoid its immunogenicity. Thus it may become a feasible, novel candidate for gene therapy, providing support to gene therapy trial for patients with cardiovascular diseases.
UTMD is a promising technique for gene delivery, but most of its studies are in the preclinical stage. UTMD still remains limited by its safety and efficiency. Future work needs to be done before its clinical application, including optimization of microbubble preparation technology to efficiently carry gene payloads while maintaining acoustic activity, prolonging circulation time to prevent clearance by the mononuclear cell, improving targeting techniques to enhance tissue binding force in areas of high shear stress, and illustration of optimal ultrasound parameters for each microbubble and its intended application. What is more important, as UTMD mediated gene therapy involve the multiple interacting modalities, there needs to be close collaboration between chemists, ultrasound engineers, and biologists to move this strategy to fruition.
Declarations
Acknowledgements
This work was supported by Research Fund of Doctoral Program of Universities (20124401120002), China Postdoctoral Science Foundation (No. 2011M501375), Research Projects of Guangzhou Education Bureau (No. 10A242), Research Projects of Guangzhou Technology Bureau (No. 12C22021645), Research Projects of Guangdong Science and Technology (2012B050300026), Natural Science Foundation of Guangdong Province (S2012040006593).
Authors' Affiliations
(1)
Department of Ultrasound Medicine, Key Laboratory for Major Obstetric Diseases of Guangdong Province, The Third Affiliated Hospital of Guangzhou Medical University, Guangzhou, China
(2)
Section of Cardiology, St. Christopher's Hospital for Children, Drexel University College of Medicine, Philadelphia, USA
Copyright
© Chen et al.; licensee BioMed Central Ltd. 2013
This article is published under license to BioMed Central Ltd. This is an Open Access article distributed under the terms of the Creative Commons Attribution License (http://creativecommons.org/licenses/by/2.0), which permits unrestricted use, distribution, and reproduction in any medium, provided the original work is properly cited.